Today, many countries on Earth, including Vietnam, are facing the same crisis called the coronavirus. Ever since being announced by the WHO as a pandemic, the coronavirus, also known as COVID-19, has shown no signs of stopping anytime soon. It is not an overstatement when we say that the coronavirus has slowed down the world economy, impacted a myriad of businesses, employed individuals and forced us to implement social distancing and self isolation.
Find Out How Cekindo's Business Process Outsourcing Can Help your Business
The great news is, the government of Vietnam has provided support for individuals and businesses amid the coronavirus crisis in Vietnam. Continue reading to find out. Also, you will read through the best strategies to keep your business running as usual in Vietnam during the coronavirus outbreak.
Taking into account that the current coronavirus and health situations are quite dynamic, we expect to see a lot of changes in regulations affecting the business environment in Vietnam. We are monitoring the updates and will make amendments from time to time.
The updates published here are the latest ones.
Immigration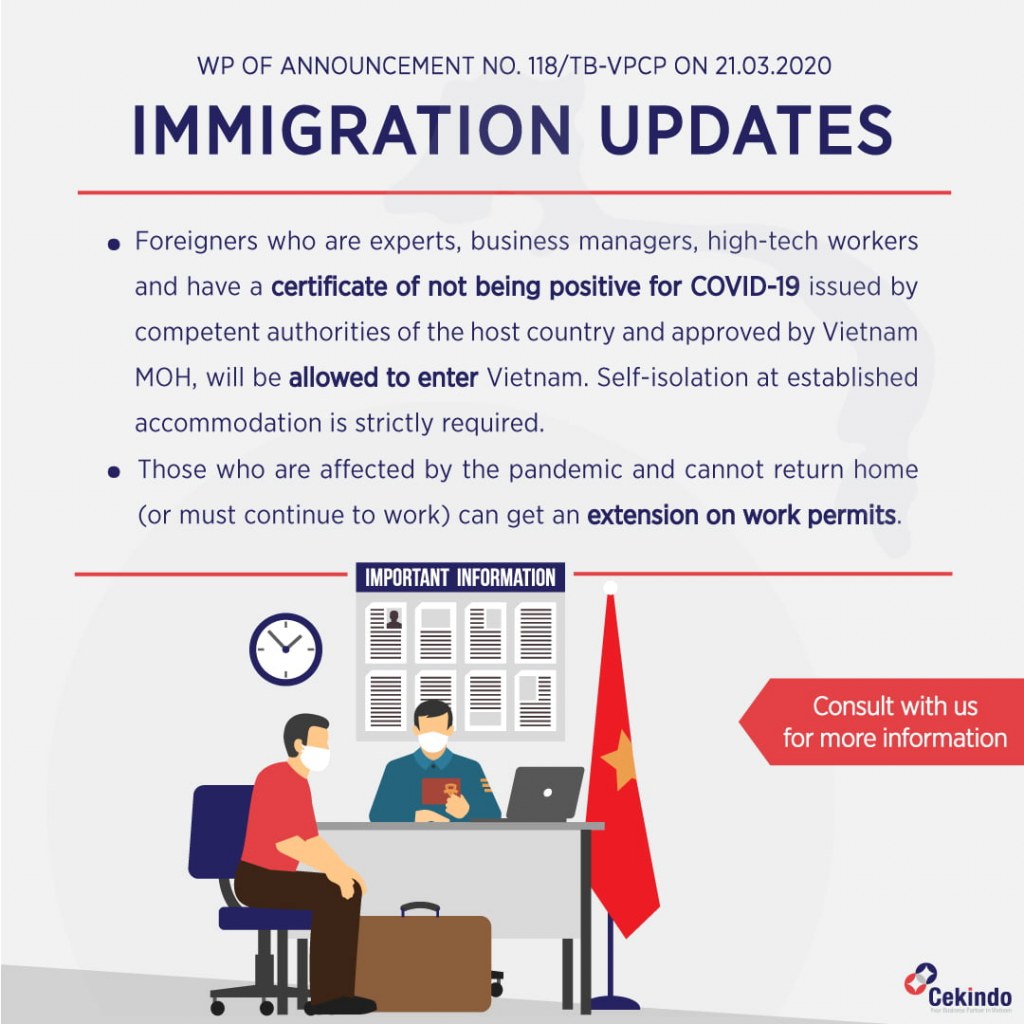 Following the current public health situations (coronavirus pandemic), foreigners who are experts, business managers, high-tech workers and have a certificate showing not tested positive for COVID-19, issued by competent authorities of the host country and approved by Vietnam MOH, will be allowed to enter Vietnam, However, they must be strictly isolated at established accommodation to ensure safety measures and prevent the spread of the virus.
Entrants on diplomatic or official purposes or other special cases are permitted as well. Those entering the country on diplomatic and special purposes will be subject to mandatory health check-up and quarantine in accordance with the regulations.
Furthermore, The Ministry of Public Security shall direct the relevant units to issue or extend appropriate visas with regard to the coronavirus cases (including those affected by the COVID-19 epidemic and cannot return home, or must continue to work). The Ministry of Labour, War Invalids and Social Affairs shall urgently issue appropriate work permits for the above cases.
UPDATE: Immigration Services, Quarantine Procedures & Vaccine Drive
The government provides the following support for individuals and businesses:
Unemployment Allowance
In accordance with Resolution No. 42/NQ-CP, individuals that satisfy one of the following criteria are entitled to the unemployment allowance:
A worker whose employment contract is suspended will receive VND 1,800,000 per month for up to 3 months beginning from April 01, 2020
A worker whose employment contract is terminated but is not eligible for unemployment benefits; a worker who does not have a employment contract and is laid off will receive VND 1,000,000 per month for up to 3 months
Tax Deferral
In accordance with Decree No. 41/2020/ND-CP, the deadline for paying VAT and CIT incurred in 2020 is deferred to December 31, 2020.
VAT of first and second quarters of 2020 may be deferred for 5 months from the deadlines for VAT payment
CIT of 2019 and first and second quarters of 2020 will be deferred for 5 months form the deadline for CIT payment
Wage Financing
An employer who is facing financial difficulties and has paid at least 50% of suspension allowance for their employees may apply for an unsecured loan that is worth up to 50% of total region-based minimum wage of suspended employees over the suspension period (but not exceeding 3 months) at an interest rate of 0%.
Ensure Operations in Vietnam with Business Process Outsourcing (BPO)
The providers of business process outsourcing services are committed to ensuring business operations and supporting business continuity, despite an unfortunate situation like the strike of the coronavirus.
You may ask your in-house payroll specialists or accountants to work from home and some of them may not be able to work because they feel unwell but unfortunately, you cannot find replacement. This is when business process outsourcing plays a highly crucial role.
With a goal in mind that all outsourced tasks (accounting, payroll, taxation, recruitment, etc.) are to be completed without leaving any gap in between the process, a business process outsourcing provider is the answer you are looking for.
You would not have to worry about any pending business tasks because even though your outsourced payroll specialists or accountants cannot fulfill their obligations due to sickness, the outsourcing company will assign either the team leaders, or even the managers, to complete the tasks and ensure that all deadlines are not missed and compliance is met.
The benefits of outsourcing your business process do not stop once the coronavirus has stopped spreading. Your days will not be filled with stress over non-profit generating tasks and you can save a significant amount of money as well, since outsourcing is much cheaper compared to building and maintaining an in-house team.
Incorporate a Business in Vietnam without Being Present
If you have already had a plan to expand your business to Vietnam, then you must not cancel. Do not let a virus, even a powerful one like the coronavirus, stop you from making your entrepreneurial dream come true.
In Vietnam, you can incorporate a business without you having to be present. Prior to starting a company, it is mandatory to have a legal representative and a lease agreement that shows that your business have a location for its operations.
Since you may not be able to travel to Vietnam due to current travel restrictions and lockdown policy, here is what you can do to satisfy the above-mentioned requirements.
Legal Representative in Vietnam
Every company that is legally registered in Vietnam is required to have at least one legal representative. Only the legal representative can bind the company, represent the company in legal matters and performing the other rights and obligations of the company. The legal representative will be involved during a business license application, an adjustment of registered capital and a corporate bank account opening.
As your presence in Vietnam may not be possible for the time being, the ideal solution would be to engage a local nominee provider, who can assist you in providing a professional resident director.
Virtual Office in Vietnam
In accordance with local regulations, when doing business in Vietnam, a residential address is strictly prohibited for use. To be able to obtain a certificate of domicile that is required during company registration, a legit business address must be provided.
The best solution to tackle the challenge of not being able to physically come to Vietnam is a virtual office. A virtual office enables investors to obtain a registered address and certificate of domicile.
Employer of Record in Vietnam
Finally, Employer of Record (EOR) in Vietnam is what you need if you wish to employ foreign employees before setting up a physical entity. In other words, Employer of Record is highly beneficial for entrepreneurs who intend to expand their business to Vietnam from overseas.
EOR generally assists companies in managing payroll, tax filing and reporting, employment contract, recruitment and background check on potential candidates.
The team at Cekindo is committed to providing business consultation and comprehensive services at all times. Reach out to us now to discuss your business needs or concerns by filling in the form below. We will get back to you shortly.