Vietnam has been playing a proactive role in developing a sustainable future and diversifying its power mix by placing significant reliance on green energy projects. With some lofty long-term goals including carbon neutrality by 2050, which entails scaling back energy needs from coal plants and increasing its alternative energy sources, Vietnam is in need of foreign investment to meet its deadlines.
Investing in Vietnam? See Our A-Z Market Entry Services
The Current State of Green Energy Investment Opportunities
As of 2020, Vietnam's solar and wind capacity was 16.6 GW and 0.6 GW, respectively. In fact, under the draft Power Development Planning (PDP) 8, the country's solar and wind capacity is expected to reach 18.6 GW and 18.0 GW, by 2030. However, to handle the capacity boost and to ensure that electricity is supplied where it is required, the country needs to upgrade both its transmission and distribution infrastructure. In this respect, the government has recently enacted new legislation that prioritizes the modernization of underdeveloped grids.
The draft PDP 8 also includes a section that discusses grid development, which involves building more high-voltage transmission lines and expanding the grid infrastructure to ease up grid congestion and also integrate renewable energy, in the process.
Some current challenges include the fact that some of the country's transmission lines are either running at high loads or are overloaded, especially in the regions where solar capacity is concentrated. In addition, electricity producers have also cut renewable energy generation from renewable sources because of grid limitations.
Although congestion can be mitigated in the short term with battery storage, the ideal long-term solution is to expand Vietnam's transmission grid. Accordingly, three 500-kilovolt lines with 461 miles are being built to connect nine cities and provinces throughout central and southern Vietnam, according to the US Energy Information Agency.
World Bank-backed Green Energy Initiatives in Vietnam
To support the development of a commercial financing market for energy-efficient industrial investments, the World Bank and the Green Climate Fund have signed a USD 11.3 million grant with the State Bank of Vietnam. The said financial assistance also includes a USD 75 million guarantee.
With USD 8.3 million out of the total grant of USD 11.3 million grant allocated for the private sector to be able to identify, evaluate, and implement energy-efficient projects. As a result, the private sector will also be able to offer technical assistance to the Ministry of Industry and Trade, government agencies, and other relevant authorities, in order to strengthen the existing policy and regulations framework so that an energy-efficient market is promoted in Vietnam.
RELATED: Solar Energy Investment Opportunities in Vietnam
Funds remaining from the grant and the guarantee will be used to create a risk-sharing facility which will further be used to support local banks that may be at risk of possible defaults on loans extended to energy-efficient projects. By mobilizing around USD 250 million towards commercial financing, this facility is expected to reduce lender risks, which in turn will facilitate the provision of credit to industrial enterprises and energy service companies, at competitive terms and with low collateral requirements.
Vietnam can save up to 11 gigawatts of energy if comprehensive demand-side energy-efficient investments are carried out, as the World Bank's Low Carbon Study estimates. The investment needed for Vietnam's key industries, towards energy efficiency, has been estimated to be at US$3.6 billion, according to the World Bank.
Incentives by the Vietnamese government
In its bid to improve the adoption of green energy, the Vietnamese government offered a generous USD 0.09 for each kilowatt-hour produced by solar farms which was significantly higher than what is paid to other energy producers. Accordion to a report by the Economist, by the end of 2019, the country generated 5 gigawatts, which is more than what Australia generates.
Green Energy Foreign Direct Investments (FDI)
Vietnam's proactive approach to dealing with its energy needs is paired with its strong ties with clean-energy leaders in Europe. This has allowed Vietnam to speed up its renewable energy transition and has further opened up opportunities for foreign investors to explore their options in the country.
Foreign investors are also pleased with Fitch's recent BB rating and the positive outlook that has been given to state-owned Vietnam Electricity Group (EVN). In addition, the rating agency has commented that it expects the company's growth and financial profile to get even more robust over time.
Green and renewable projects make up for the majority of the FDI inflows.
Thanks to its long-term carbon neutrality goals paired with its investment-friendly policies Vietnam has attracted impressive amounts of foreign investment in recent years.
An MoU was signed between the LEGO Group and Vietnam-Singapore Industrial Park Joint Venture, underlying plans to set up its very first carbon-neutral factory. This is a USD 1 billion project that will generate 4,000 employment opportunities over the next 15 years.
Furthermore, Ho Chi Minh City Development Joint Stock Commercial Bank (HDBank) received a US$ 50 million loan from the French development finance organization Proparco to finance green projects to promote sustainable development.
To further encourage the private sector in Vietnam, the International Financial Corporation (IFC) recently extended a US$ 100 million long-term loan to the Orient Commercial Joint Stock Bank (OCB). As reported on local news this loan was specifically geared towards promoting climate-friendly projects in Vietnam by lending to small- and medium-sized enterprises (SMEs).
2030 and beyond – Government plans for Vietnam's Green energy
Reduce greenhouse gas emissions by 25% in 2030 and around 45% in 2050.

Total electricity generated from wind sources shall increase to 2,000 MW in 2025, and 6,000 MW in 2030. The share of wind power in total electricity production shall account for 1% of total energy generation in 2030.

The share of biomass energy in total electricity production shall account for 1% in 2020, 1.2 % in 2025, 2.1% in 2030.
The total solar power production shall increase to 4,000 MW in 2025, and 12,000 MW in 2030. The share of solar power in total electricity production shall account for 1.6% in 2025, and 3.3% in 2030.
*Source: Asia Pacific Energy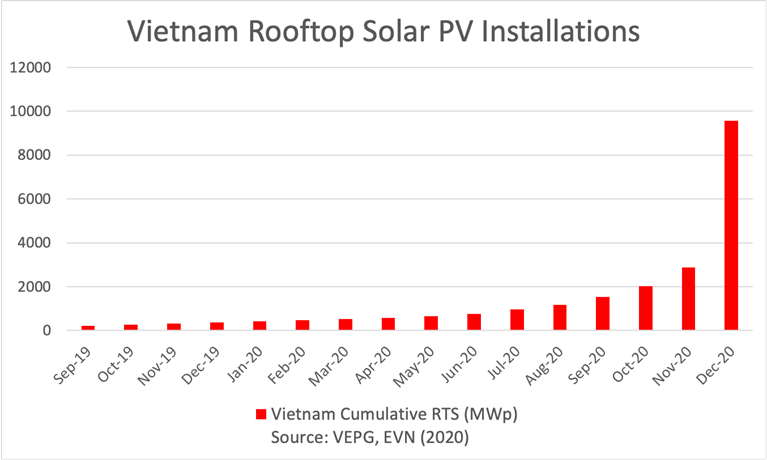 Challenges toward a green energy future
Vietnam has been able to identify, so far, that it is imperative to shift away from the traditional growth models in order to sustain the development gains that have been achieved in the past decades. Accordingly, it has developed a National Green Growth Strategy (VGGS) and a Green Growth Action Plan. However, the implementation of the VGGS is likely to cost at least $30 billion, which means that there needs to be an increase in the current funding levels.
For Vietnam to be able to achieve a low-carbon economy by 2030 & complete carbon neutrality by 2050 there is expected to be an incremental cost of 1% of its GDP. However, the country's current expenditure towards this goal is only about 0.1% of its GDP. This is likely to prevent the country from enabling green growth, at the levels, it has promised. To avoid that, according to The Global Green Growth Institute Vietnam will have to increase the effectiveness of each dollar put towards climate financing. In addition, it will also have to diversify its funding sources, in the process.
About Us
Cekindo Vietnam is part of InCorp Group, based in Singapore. Incorp is the largest Asia-based corporate service provider in the APAC Region. We assist foreign companies with their market entry needs in Vietnam, including Company Registration, Accounting & Taxes, HR & Payroll, Product Registration, Employment of Record, and other services.