To help businesses recover from the COVID-19 crisis, The National Assembly decided to reduce 30% of corporate income tax for 2020 tax year. The eligible businesses are those with revenues not exceeding VND 200 billion. 
Tax season is not something that happens on a daily basis but for business owners trying to stay on top of tax matters in Vietnam can feel like a full-time, all-year job. Corporate income tax laws and compliance in Vietnam are often complex and time consuming, and the regulations change quite frequently due to the fact that Vietnam is still developing its economy. Several lodgments may be required on an annual or quarterly basis based on your company's condition.
Read More About Cekindo's Corporate Tax & Compliance Services for Foreign Firms 
Corporate tax filing is not something you should do on your own and using a tax professional is extremely critical. Even if you engage a tax expert, as a business owner yourself, you will also need to know your corporate tax obligations in Vietnam and how they can affect your company's bottom line.
Here are the steps you absolutely have to know when managing your corporate income tax in Vietnam.
Steps to Manage Your Corporate Income Tax (CIT) in Vietnam: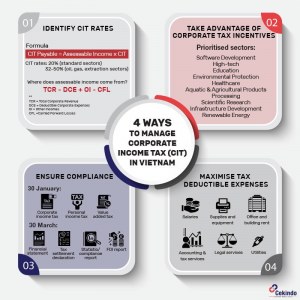 1. Identify the effective corporate income tax rates and treasury planning, as well as possible leakages in business cycle.
In Vietnam, assessable income is used to calculate corporate income tax. The formula goes like this: CIT Payable = Assessable Income x CIT Rate. And the assessable income is calculated with this formula: Total Corporate Revenue – Deductible Corporate Expenses + Other Incomes – Carried Forward Losses.
You can carry forward your corporate tax losses for a maximum of 5 years, starting after the year of loss. The CIT rate is different depending on the type of business: 20% for standard CIT (the most prevalent CIT for most industries) and 32%-50% for oil and gas sectors, and other industries involved in extraction.
2. Know the corporate tax incentives and take advantage of it.
There are different corporate tax incentives in Vietnam and the government decides if you company can take advantage of them based on the encouraged sectors, type of investment projects, locations, and project scales. Good news for SME businesses, the Vietnamese government will release tax incentives to SMEs that decrease SME's primary tax rates.
RELATED: The Most Common Tax Infringements in Vietnam and How to Avoid Them
Encouraged sectors for tax incentives include software development, high-tech companies, education, environmental protection, healthcare, aquatic and agricultural products processing, scientific research, infrastructure development and renewable energy. To know what locations, project scales, preferential tax rates, and tax holidays and exemptions applicable for corporate tax incentives, get in touch with Cekindo's tax expert.
3. Ensure continuous compliance with corporate income tax regulations with annual and quarterly tax planning.
Businesses have to calculate their provisional corporate income tax and submit it within 30 days after every quarter. As for annual final corporate income tax return, companies need to calculate and remit any CIT payable balance within 90 days after each financial year.
Note that, the total amount of provisional corporate income tax paid in the first 03 quarters of the year shall be at least 75% of the terminal tax from the tax period 2021. Otherwise, late payment interest shall be charged on the arrears over the period from the deadline for paying corporate income tax of the third quarter to the date of payment of the arrears.
In Vietnam, January 1 to December 31 is the standard financial year. However, given the special conditions, companies in Vietnam are allowed to adopt their own financial year. The alternative financial year can end on March 31, June 30, or September 30.
4. Maximise tax deductible expenses to manage corporate tax liability efficiently.
In general, necessary expenses for operating a business in Vietnam are basically all tax-deductible. These expenses are salaries, supplies and equipment, office and building rent, accounting and tax services, legal services, utility costs, etc. However, the expenses incurred must meet certain criteria to be eligible for deduction.
Tax Outsourcing to Cekindo
Cekindo is one of Southeast Asia's leaders in corporate and business advisory services including accounting and taxation services, payroll outsourcing, human resource outsourcing and many others.
Complex tax laws in Vietnam and cross-border tax complications take resources and time away from your core business focus. At Cekindo, we are firmly committed to providing high quality tax outsourcing services to help both foreign and local companies navigate the complicated tax environment and stay compliant with Vietnam tax regulations.
Our certified tax experts are positioned to help you have a peace of mind during the tax reporting, maximise your tax benefits and incentives, as well as provide you with the resources you need to succeed in the global market. Let us help you now. Start by filling in the form below.