Incorporating your business is an essential part of doing business in Vietnam. Business incorporation is a relatively easy process in Vietnam. But, a lot of foreign first-time investors, even experienced business owners, can sometimes get derailed. The consequences of going off-track and non-compliance are legal complications such as heavy penalties.
For foreign entrepreneurs who are doing business in Vietnam, here are the business incorporation myths we'd like to debunk for you. Avoid unnecessary legal liabilities and be well on your way to running a successful business.
Doing Business in Vietnam: Incorporation Myths Debunked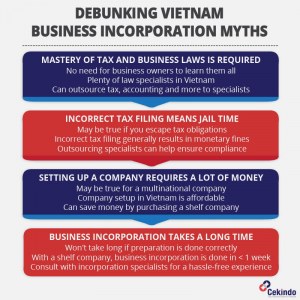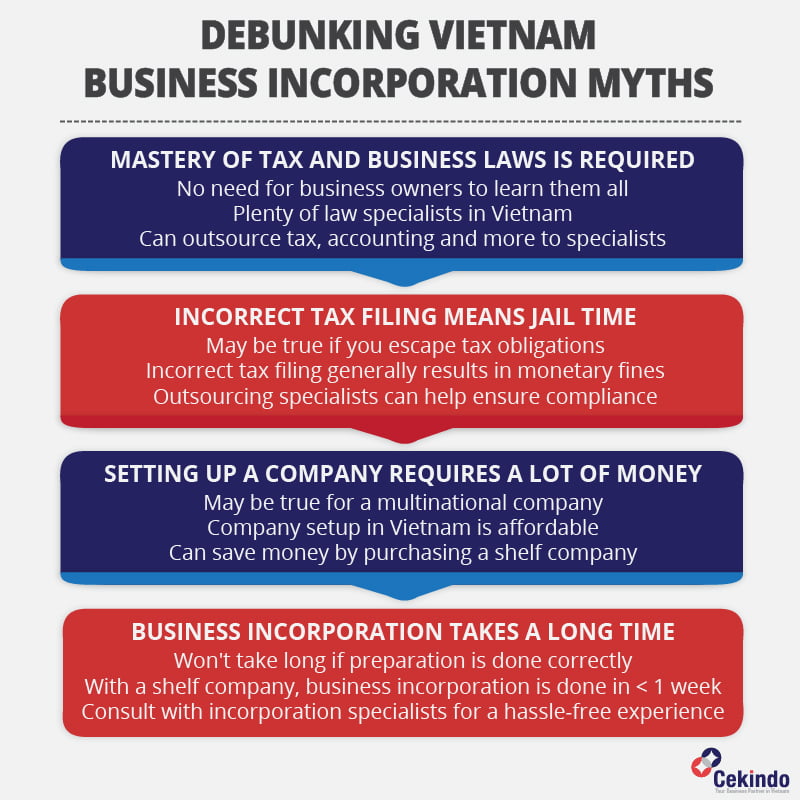 1. You need to know all about the tax and business laws
Laws between countries can be different and each province in Vietnam may have its own tax and accounting laws.
It doesn't mean that you should go and study all about tax and business laws. Your time is precious and it will probably take many years before you can become an expert.
Why not outsource your tax and other business functions to a professional who already has the expertise to handle all these for you?
They make sure that your business is in full compliance and save you a lot of time figuring out the law yourself.
2. You will be thrown into prison for incorrect tax filing
You may indeed be imprisoned for running away from tax obligations.
However, unintentional, incorrect tax filing will mostly result in penalties in monetary form – though the amount can be large depending on how big the error is.
To mitigate all these risks once and for all, a tax and accounting outsourcing specialist is your answer.
3. It is extremely expensive to form a company
If you want to establish a huge, multinational company, then yes, it can be expensive. However, most businesses can be incorporated at an affordable price when you just start.
To save both time and money for doing business in Vietnam, you can even purchase a shelf company, also known as a ready-made company.
A shelf company offers a reasonable price and allows you to set up and run your business in Vietnam overnight. Cekindo offers shelf companies of different ages that fulfill your business criteria.
4. Business formation in Vietnam is time-consuming
This myth can be true or false. Why? If company formation is done properly, you can get your business formed in a specific timeline.
However, if you are not familiar with the registration procedure and commit many mistakes along the way, a company formation process can be a lengthy and tedious one.
Therefore, to avoid the errors due to your unfamiliarity with the local regulations and requirements, and possible time and energy-draining process, it's best to get a shelf company.
You can buy a shelf company through a reliable provider. All paperwork, transfer of company and registration can be completed in 2-3 days.
A shelf company from a credible provider can also help augment your business credibility and your prospect's confidence due to the longer years of establishment.
Cekindo Offers Both Shelf Company and Outsourcing Solutions
Cekindo is well adept with the legal aspects of purchasing a shelf company and the expertise of outsourcing solutions in accordance to the business climate in Vietnam.
Once you have decided on the shelf company you'd like to purchase for doing business in Vietnam, our specialists will undertake the necessary due diligence. We make sure your business can be up and running in no time with our outsourcing solutions.
Reach out right away. Our multilingual team of business consultants is happy to assist with all inquiries about shelf company and outsourcing solutions in Vietnam – in a fast and efficient manner.
Fill in the form below to let us know your business needs.