Vietnam is host to over 100 fintech startups that offer a broad range of services such as wealth management, digital payments, alternative lending, and blockchain-based technologies. In addition, the country has improved its internet infrastructure & tech-based education ecosystem creating a foundation for developing effective financial technologies.
Investing in Vietnam's Fintech Industry? See Cekindo's Compay Registration Services
The fintech industry's transaction value in Vietnam is expected to reach USD 26,738 million by 2025, with 70.9 million users.
​​What Vietnam's fintech sector learned from 2021
The impact of COVID-19 on commerce and business strategies
The country witnessed exponential demand for digital payment solutions, such as QR code payments, mobile payments, and card payments. The trend has pushed e-wallet players, such as MoMo, VNPay, Moca, ViettelPay, and ZaloPay, to the fore. According to Microsave in Q1 of 2021, around 395 million transactions were carried out using mobile phones, demonstrating a significant increase of 78% compared to the previous year.
Moreover, the digital payment solutions came as a savior for new users who found themselves isolated at home due to covid restrictions and had to use services like MoMo, Grab, Now, and ZaloPay for their daily needs. It is also noteworthy that various mobile wallet apps have also started providing financial services, like loan applications and non-life insurance products accompanied with discount vouchers and cashback offers.
The boom in the fintech sector brought on collaboration with new markets and industry players. For example, With the advent of the COVID-19 pandemic, the speed of collaboration among fintech players and insurance companies to develop microinsurance products was also bolstered. For instance, the Corona++ nano insurance product was launched by PVI and MoMo to serve vulnerable LMI (Lender Mortgage Insurance) clients.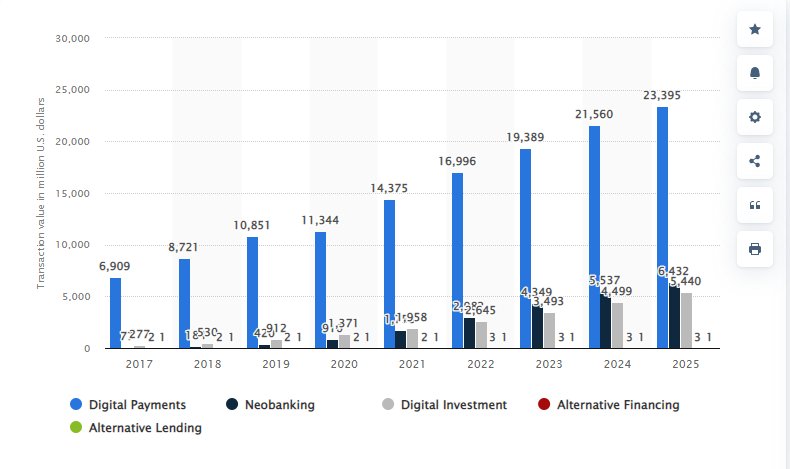 Acceptance of mobile money in Vietnam
This new year, Vietnam registered a significant milestone of having more than 463,000 people using Mobile Money. Mobile payment technologies are evolving at an unprecedented rate, and Vietnam can now be considered an opportune marketplace for new players looking to invest in this attractive new market.
Latest fintech startups shaking up the industry in Vietnam
Infina: The Robinhood of Vietnam
Launched in January 2021, Infina is a leading retail investing app developed with the mission to make investing seamless and secure. Recently, the company received a seed funding of USD 4 million and previously raised USD 2 million as well. Moreover, Infina was part of Y Combinator's Summer 2021 cohort and is striving to become the "Robinhood of Vietnam." 
The app allows its users to choose from a range of asset classes, including fixed-income products, mutual funds, and equities. Infina's exponential growth can also be attributed to its successful integration with third-party apps like Tiki.
Nano Technologies was founded in 2020 and received a whopping USD 3 million in seed funding. The company has developed an app called VUI that enables workers in Vietnam to access their earned wages immediately. 
RELATED: Vietnam E-Commerce Trends for 2022 & Beyond – What To Expect
According to Techcrunch, VUI has registered around 20,000 employees from big corporations like GS25, LanChi Mart & Annam Gourmet. Moreover, the company claims that about 60% of employees sign up for the app as soon their employer offers it. Therefore, the app has drawn attention from sectors like retail, food and beverage, manufacturing, textiles, garments, and shoes. 
Anfin: Accessible stock investment
Garnering over a million downloads since its establishment in October 2021, Anfin is already set to receive its Series A funding this year. The fintech app startup hopes to expand beyond Vietnam as a big player in social investment products.
Anfin's app features fractional trading, stock profiling and risk assessment, alongside social characteristics such as live audio rooms where users can communicate with each other. Its angel investor, Clement Benoit, said that adding a social aspect to a user-centered stock trading product can be the key to unlocking the Asian market's potential.
Cryptocurrency in vietnam – Awareness & Sentiment
Despite being the 53rd largest economy based on GDP, Vietnam is ranked 13th in terms of realizing gains from trading cryptocurrency, according to Cointelegraph. 
According to a U.S.-based financial consultancy survey, 20% of Vietnamese admitted that they had bought Bitcoin. The figures happen to be the highest among 27 countries polled.
The country has the 2nd highest rate of cryptocurrency adoption among 74 surveyed economies, as indicated in data reported by Statista. One of the most crucial factors driving the growth of cryptocurrencies in Vietnam is remittance payments. 
Is Crypto legal in Vietnam?
In the past years, Crypto has been making a strong presence in Vietnam. According to Finder, 41% of people who own cryptocurrencies are Vietnamese. Because of its significant growth, Vietnam is working on a legal framework for cryptocurrency. It will be built in accordance with the provisions of Decision 1255, which approves the idea of a legal framework for the management and handling of "virtual assets, digital currencies, and virtual currencies".

For this project, Vietnamese Deputy Prime Minister Le Minh Khai has asked three ministries: Finance, Justice and Information & Communications to collaborate with the central bank, the State Bank of Vietnam and other relevant bodies to develop the legal framework. Besides, he also has given the Ministry of Finance the responsibility to establish an agreement with other regulatory authorities and the central bank to specify pieces of legislation that need to be modified, supplemented, and promulgated. A clear timeline for implementation is also required.
Alternative Lending options
The Alternative Lending market segment includes a wide range of loan options outside of conventional bank loans. It is majorly focused on fulfilling the capital requirements of Small & Medium Enterprises (SMEs) and for personal loans (such as Marketplace Lending or Peer-to-Peer lending).
Currently, Vietnam's total transaction value in the Alternative Lending segment is forecasted to register USD 1.1 million and shall demonstrate an annual growth rate (CAGR 2022-2026) of 1.07% by 2026, according to a report by FintechNews. Moreover, the market's largest share is attributed to crowdlending with a projected total transaction value of USD 1 million.
P2P lending players in Vietnam
Also mentioned in the report, Vaymuon.vn happens to be one of the country's largest peer-to-peer (P2P) lending players with over 2 million customer users and 400,000 investors. Currently, the company is seeking to raise USD 10 million to expand into countries such as the Philippines, Myanmar, Thailand, Cambodia, and Indonesia.
Several new companies are also entering the market, including Robocash, Interloan, Mofin, Growth Wealth, Fiin, MegaLend, eLoan.vn, and BaBang.
What is there in store for Vietnam's Fintech Industry?
As per a survey conducted by Statista and reported by Kapronasia, on average, a Vietnamese consumer spends only USD 74 using payment apps, whereas China and South Korea spend USD 2,300 and USD 2,031, respectively. However, the survey also indicates that the country's online transaction value will spike from USD 11.6 billion in 2020 to USD 26.4 billion by 2025.

The survey also indicated that 93% of the fintech investments were made in the payments segment. An e-wallet and payments app called Momo raised USD 200 million in its Series E round, with Japanese bank Mizuho contributing a whopping USD 170 million. In return, the bank was entitled to 7.5% equity in the company, therefore boosting MoMo's valuation to USD 2.27 billion.
Moreover, other fintech companies in Vietnam are trying to tap into market segments that are not highly competitive. For instance, F88, a lender and insurance distributor, borrowed USD 10 million and planned to use it to gain access to untapped market segments.

According to Deal Street Asia, 1.3 million Vietnamese opened up new stock trading accounts in 2021, three times the number in 2020. It is also estimated that the country is home to about 6 million crypto and Non-Fungible Token(NFT) investors.