Establishing a factory for production in Vietnam comes with certain standards & regulations. As a result of the "trade war" in the last few years between China and the USA a lot of foreign-owned factories have been relocating to Vietnam. As a result of this massive influx of factory relocations to Vietnam, the demand for factory space and know-how on the regulations and certificates needed has been rising. Here are the six most important ones you are obliged to execute.
Read More about Cekindo's Company Incorporation Services in Vietnam.
Establishing a factory for production in Vietnam: Construction Standards
Standards for Foundations
Standard TCVN 2737: 1995 details the foundation standards of setting a production factory in Vietnam. According to this standard, business owners must meet requirements of impact load technology, as well as fulfilling the conditions regarding construction's geology and hydrogeology.
The foundation of a production factory on a soft ground must be worked out to fulfill geological requirements
The foundation of a production factory must follow the technology and its usage requirements according to the foundation structure and type
The factory's surface shall be able to avoid water stagnation with the installation of a drainage system and a strong lining and a
The foundation's upper surface height must be lower than the ground
Common designs are required for two adjacent columns if a factory is column-footed with expansion joints
Factory's foundations must have a heat-resistant protective layer if they are subject to high temperatures; or an anti-corrosion protective layer if they susceptible to corrosion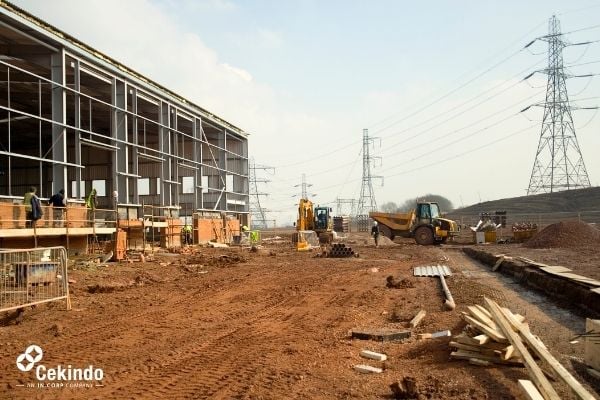 Standards for Roofing
A manufacturing factory's roof must comply with the below standards:
The type of roof material is based on the roof slope:
– Roof slope of 30% to 40%: asbestos cement sheets
– Roof slope of 15% to 20%: corrugated iron sheets
– Roof slope of 50% to 60%: tile
– Roof slope of 5% to 8%: reinforced concrete slabs
For a production factory with roof or roof doors with at least 2-roof difference or equal to 2.4m, there Water gutters and drains are compulsory for a factory's roof doors equal to 2.4 meters or greater than 2 roofs
Vertical glazing is required for mixed roof doors with ventilation and lighting. The maximum length of the roof door must not exceed 84 meters
Related: Relocating From China to Vietnam, a Smart Decision.
Standards for Ventilation Systems
Manufacturing factories producing textiles, mechanical machines, and packaging and with a sizable amount of labor and operating activities must have proper ventilation system air circulation and polluted air elimination. A standard ventilation system of a production factory will have to meet the following criteria:
The efficient heat reduction of a factory's airflow, ensuring that the heat level is fit for workers
Removal of external polluting fumes and toxic chemicals
Removal of moisture and dust generated in the production area, creating a ventilated and dry workspace
Reduction of pathogens
Clean and evenly-distributed airflow without creating drafts
Safe, stable, and durable ventilation system without unnecessary maintenance costs
Standards for Emergency Exits and Doors
Emergency exits and doors are critical to ensure workers' safety. Thus, production factories must follow specific regulations regarding doors and emergency exits:
They must be designed to ensure efficient and safe escape during incidents such as fire or explosion – will not be obscured because of smoke and dust
They must lead people directly to the hallway, stairs, lobby, and outside the building
They must link to a path that will lead people to the next area of the same exit on the same floor
There must be exits to get people out from the column-foot floor or basement
Standards for Partitions and Walls
Standards for a factory's walls and partitions depend on their type, demand, scale, and characteristics:
Walls of asbestos-cement sheets or other light materials: footings must be in stones, bricks, or concrete
Brick walls: moisture-proof and rain-proof layer with horizontal cement mortar
Partition walls: easy-to-disassemble design
Standard for Goods Transportation
Below are the standards for goods transportation to follow to support efficient logistics and maximum safety:
Convenient and access to warehouses and workshops
Compact without overlapping
Available ways for vehicles such as cars
Certificates Needed
For setting a factory in Vietnam, you must acquire the following relevant certificates
before you can start your operation. The subsequent steps of obtaining relevant certificates are shown here:
Business Registration Certificate
Enterprise Registration Certificate
Investment Registration Certificate
Other sub-licenses
How Cekindo can Assist in Setting up a Production Factory in Vietnam
Companies looking to move to Vietnam need to comply with federal  laws when setting up a factory in Vietnam With Cekindo we get you started including obtaining a Company Name, Business Registration, getting Relevant Certificates, Filing your Taxes, Appointing Directors and Issuing Shares. Click Here for our full range of services.
Cekindo will make the entire process a breeze for you. Our multifaceted team of business experts is ready to assist you with all your upcoming inquiries and issues related to your factory setup.
Complete the form below now.