Starting a business in Vietnam doesn't have to be scary if you know how. Below are the three things you need to prepare while setting up a company in Vietnam: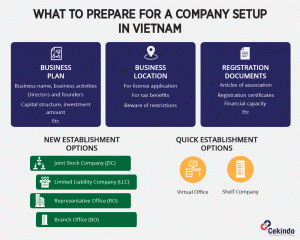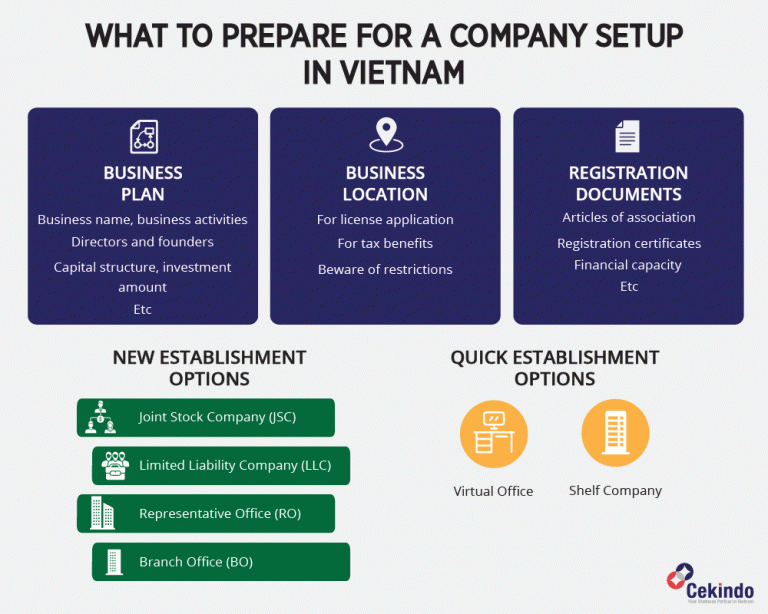 Things to Prepare when Setting up a Company in Vietnam
1. Business Plan
Your business plan should contain at least the following items:
Business types, business activities, and processes
Investment amount, capital structure, and resources
Business name, brand, contact number, and website
Board of Directors and founders
Organisational chart and key officers
Mechanism of internal governance
Cost structure and amount of revenue in the previous financial year
2. Business Location
You need a business location for license application and to operate your business activities. Be mindful when it comes to choosing your business location as it is subject to specific requirements based on the type of your legal entity.
Besides, there will be restrictions regarding enterprise registration in certain places. You may enjoy corporate income tax benefits in some locations as well. Do seek professional advice for more details.
3. Documents for Business Registration
Business registration is only valid when you submit the following documents as the company's founder:
Common Entities Available in Vietnam
Four common types of legal entities are available for setting up a company in Vietnam:
Joint Stock Company (JSC): 100% foreign-invested enterprise with at least three shareholders
Limited Liability Company (LLC): 100% foreign-invested enterprise with only one or two shareholders
Representative Office: a company set up to conduct non-transactional operations such as marketing
Branch: an outlet of a company to establish its presence and run transactional activities
Other Options: Virtual Office and Shelf Company
There are also effective alternatives for setting up a company in Vietnam. You can locate your new venture in a shelf company or a virtual office.
Here is the range of benefits that virtual offices and shelf companies can offer businesses:
Benefits of Virtual Offices in Vietnam
It is cost-effective and you don't need to commit in the long-term rental and expensive monthly lease of a physical office
It is flexible for employers and employees without the restrictions of place and time – thus increasing productivity
You will enjoy zero commutes and save the environment through the reduction of your carbon footprint. No commute means you can save more money and more time
Benefits of Shelf Companies in Vietnam
You can set up a shelf company quickly and run your business immediately due to its easy process
A shelf company's longevity enables you to foster relationships by attracting new clients, suppliers, and investors
You can enhance all stakeholders' confidence and secure more business contracts
It is easier for you to obtain bank and credit approval through an aged company
Setting up a Company in Vietnam with Cekindo
Establishing a business in Vietnam and finding all the services you need in one place can be a daunting undertaking for many entrepreneurs.
However, with Cekindo's comprehensive support services, getting your business up and running efficiently is no longer a challenge.
Cekindo's specialists will help you get things started by first advising you on the best legal entity that fits your business plan and goals. Then, we will take care of the entire company registration process for you.
However, our service doesn't stop there. There are so many other things to consider for setting up a company in Vietnam: finding an office space, opening a bank account, recruiting and hiring, drafting legal documents, registering tax, etc. – and we can help you with all of these.
Get in touch with us today and we will put you in touch with the right person to handle your request. Fill in the form below.