Starting a business in Vietnam due to its multitude of investment opportunities is no more a novelty to foreign investors.
The economy in Vietnam has seen a massive boost over the past decade and it's no wonder that it's now reputedly known as second China.
The very best reason for entrepreneurs to run their businesses from Vietnam is the lifestyle and business optimisation. In other words, business owners can manage their life and business at a very affordable price tag.
What is more, the entrepreneur expat and startup scene in Vietnam is incredible; and 70% of the population of the country is under the age of 30, who are young, motivated and talented.
Investing in Vietnam? See Cekindo's Business Incorporation Options
According to the World Bank, Vietnam has successfully revolutionised itself from being one of the poorest countries in the world into a rapidly-developing country with a growing middle-income population for the past three decades.
The World Bank further cited that the barrier for starting a business in Vietnam has been lowered thanks to the Vietnamese government's initiatives and the country's investment transparency to encourage foreign investments.
One of the most notable efforts to boost the foreign investment scene is Danang's Industrial Park.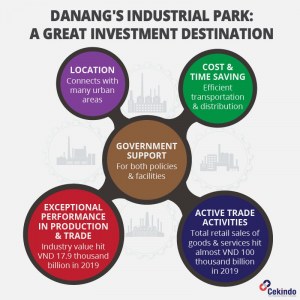 Why Invest in Danang's Industrial Park
This great advantage of Danang's industrial park is the saving of transport costs and time for foreign investors.
Danang's industrial park is conveniently connected with many urban areas, making transportation and distribution highly efficient. Industrial park projects in Danang have received strong support from the government and private sectors in terms of policies and facilities.
Danang performed extremely well in industrial production and trade in 2019 and the value of the industry hit approximately VND 17.9 thousand billion – an increase of VND 3 hundred billion in less than 12 months.
Not only that, the industrial index was also recorded with an increase of 4.25% attributing to industries including electricity production and distribution, processing-manufacturing, waste treatment, and water supply.
In the same year, trade activities in Danang have also advanced immensely with total retail sales of goods and services reaching almost VND 100 thousand billion. This total retail sales of goods and services figures are 13.6% higher than the one recorded in 2018.
How to Set up a Company in Vietnam
Foreign investors starting a business in Vietnam should first set up a company in the country.
A foreign-owned company in Vietnam is the most common form as it allows maximum foreign ownership of 100%.
For a successful company establishment, you are required to obtain two certificates, which are the enterprise registration and investment registration certificate.
RELATED: Things to Consider Prior to Operating a Manufacturing Plant in Vietnam
Enterprise Registration Certificate
This certificate, known by its acronym ERC, is a document consisting of information of the registered enterprise. An ERC is available in either a hard copy or a soft copy.
Investment Registration Certificate
An investment registration certificate, or IRC, is a soft copy document that contains all the information of the registered investment project. This certificate is compulsory for foreign investors when they own 51% or more of the investment project's charter capital.
Process of Company Registration in Vietnam
The business owner must submit a complete and valid set of company registration documents to Cekindo
Cekindo checks and confirms all documents are thorough and accurate in 3 business days and submit the document to relevant authorities on the owner's behalf
A writing notification will be sent to the founder of the application. The reasons for application refusal will be stated
Based on the type of business category, owners may have to fulfill other requirements under Vietnam's Enterprise Law and Investment Law
Starting a Business in Vietnam with Cekindo
The Vietnamese government and businesses have created a very favorable investment environment, one in which international businesses can thrive and prosper. It's time for you to join this groundbreaking steam of business opportunities.
At Cekindo, we are your one-stop business setup consultant in Vietnam and can make the process of starting a business in Vietnam easier for you.
We provide services to both domestic and international investors and companies, including company registration, business licensing, visa application, PEO, EOR, nominee arrangement, and others.
To initiate the process of starting a business in Vietnam, feel free to contact us through the form below.