Hanoi has been a desired destination for diverse foreign investments and tourism for the past decade. Aside from its rich culture and breathtaking landscapes, the surging economy is another reason Hanoi has grown from an unknown region to one of the rapidly-growing cities in the world and a desired city for starting a business in Vietnam.
As the capital city of Vietnam, Hanoi brought in more than US$5.3 billion in foreign direct investment in only 6 months in 2019, accounting for 38.4% of Vietnam's total FDI.
Investing in Vietnam? Check Out Cekindo's Company Incorporation Services
Due to the spiking FDI, the Vietnamese government has also seized the opportunity by granting more investment certificates to new projects.
According to the Vietnamese Foreign Investment Agency, approximately 1,918 new foreign investment projects were recorded in 2018, with a total investment capital of US$13.8 billion – an increase of almost 51% compared to 2017.
Cekindo has got ready a quick guide that enables you to make an entry into this attractive market as soon as possible.
Why You Should Start a Business in Hanoi in Vietnam
Hanoi, a charming city that has proven to many investors and foreign companies why it is a perfect destination for starting a business in Vietnam.
Businesses and startups are thriving in this fascinating city because of some of the many reasons below:
Ample and Low-cost Workforce
As one of the most vibrant cities in Southeast Asia, more than 7.8 million people are staying and living in Hanoi.
Therefore, a highly skilled and qualified workforce is not all difficult to acquire in this large population.
In addition to the workforce abundance, the low labor cost is what makes Hanoi an alluring city for entrepreneurs to come to establish their business empire.
Excellent Location Geographically
The location of Hanoi on the map is ideal and strategic. It is close to many major ports and trading countries such as China, Malaysia, Singapore, and Indonesia.
Improved Facilities and Infrastructure
The excellent geographic location of Hanoi also catapults the city to develop its more effective facilities and infrastructures such as international airports, highways, and railways. These infrastructures promote connections domestically and internationally.
Requirements for Opening a Company in Hanoi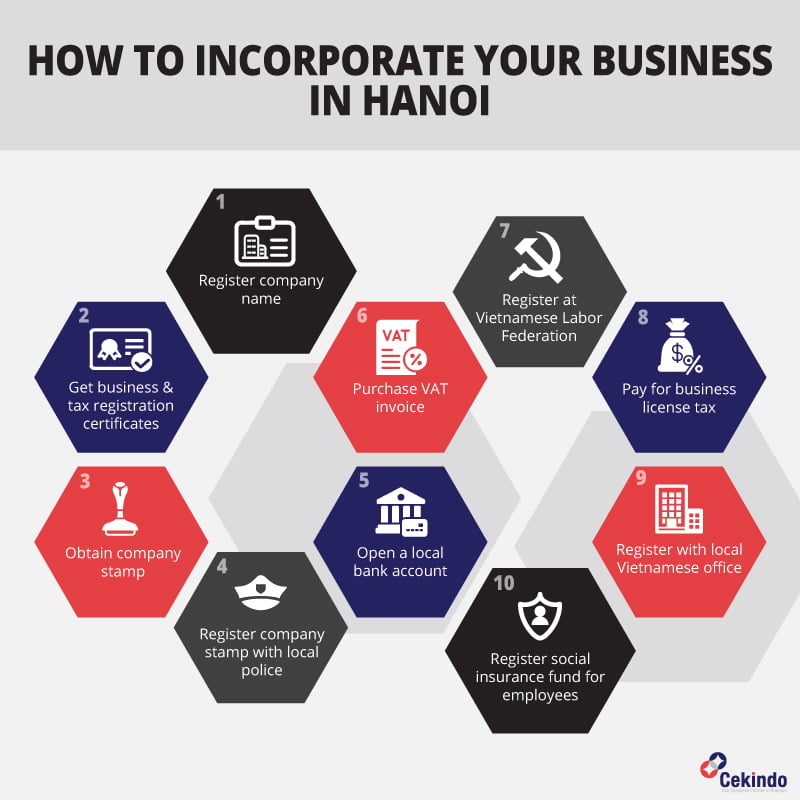 Related: Market Entry in Vietnam: Succeeding Through a Successful Strategy
First and foremost, you need to choose a legal entity for your business that fits your business goals in the long run. If you're not sure of which type of entity you should go for, you can always contact Cekindo for a free consultation.
Once you've selected your perfect legal entity, here's the process you have to follow to ensure a successful company setup in Hanoi:
Register for your company name.
Get a registration certificate and then a tax registration certificate.
Obtain a stamp of your company.
Register the company stamp with the local police in Hanoi.
Open a bank account with a Vietnamese bank.
Purchase the VAT invoice.
Proceed with registration at the Vietnamese Labor Federation.
Upon the publication of your registration notice on the National Business Registration website, pay for the tax of your business license.
Register with the local Vietnamese office.
Proceed with the registration of a social insurance fund for your employees.
Available Legal Entities in Hanoi
There are four main types of legal entities you can consider when starting a business in Vietnam:
Joint-stock company
Limited liability company
Representative office
Incorporated partnership
In addition to the four most common types of legal entities in Hanoi, you can also opt for the following options:
Start Your Business in Hanoi with Cekindo
As may have already been aware that expats often encounter troubles when starting a business in Vietnam as they are not familiar with Vietnam laws and they don't speak Vietnamese.
Cekindo feels your frustration and that's why we offer comprehensive business setup services in Vietnam to our clients from all over the world.
We can provide you with assistance for all compliance matters regarding company registration, business licenses, payroll and taxes, employment and recruitment, and many others.
Our far-reaching services allow you to establish and run your business more effectively within a defined timeframe and budget.
Are you still seriously considering starting a business in Vietnam? With Cekindo, we can help you with the entire company registration process from scratch.
Get in touch by filling in the form below.