Vietnam has emerged as a significant destination for foreign direct investment (FDI) in recent years, despite the global impact of the COVID-19 pandemic. The country's open-door policy, along with its appealing incentives and favorable investment environment, has made it a highly attractive destination for foreign investors. Moreover, FDI has played a crucial role in driving the country's economic development and facilitating its integration into the global economy.
Entering a new market like Vietnam can be challenging, but it doesn't have to be. Our Business Setup Services can help you get started quickly and seamlessly.
The country offers several advantages that make it an ideal choice for foreign investors. These include a favorable business climate, a stable political environment, and an abundant and cost-effective workforce.
The country offers several advantages that make it an ideal choice for foreign investors. Firstly, it boasts a favorable business climate, a stable political environment, and an abundant and cost-effective workforce. Furthermore, the attraction and utilization of FDI in Vietnam have played a significant role in stimulating its economic transition, restructuring, and the renovation of growth models. Consequently, it has enhanced the competitiveness of the country, its sectors, products, and services, while also refining institutional and policy reforms. All these efforts have fostered and standardized the development of a comprehensive and modern economy.
This article reports the number of projects and amount of FDI in Vietnam, taking into account aspects such as industries, regions, source countries, and potential. Additionally, it's crucial to understand the trends and implications of FDI to identify suitable investment opportunities and assess associated risks, for informed decision-making and maximization of returns.
Overview of Vietnam's FDI Inflow
Historical context: Key milestones and policy reforms that have facilitated FDI inflow in Vietnam
The early 1980s marked a challenging period for Vietnam as, being one of the world's poorest at the time, it was struggling to recover from the ravages of decades of war. With a centrally planned economy that couldn't even meet basic consumer needs, the country was grappling with an extremely high inflation rate of 400%.
However, the course of events took a turn in 1986, with the introduction of Doi Moi, a pioneering economic reform program. The impact was remarkable as shops across Vietnam started offering goods like television sets and washing machines. Private enterprises too began thriving. With the pouring in of foreign investment, the nation reconnected with the global economy again.
This led to an uplifting of 40 million people from poverty between 1993 and 2014. The poverty rate plummeted from nearly 60% to 14%, during this period. Vietnam's per capita growth, second only to China's since 1990, averaged an impressive 5.6% annually, as of 2017. In fact, Vietnamese are now better educated, with an increase in life expectancy, when compared to countries with similar income levels. Moreover, electricity too is now common in almost every household.
Vietnam has also made notable strides in combating corruption, boasting a comprehensive anti-corruption legal framework, relative to other Asian nations. Since 2017, the country has achieved significant milestones in its anti-corruption efforts, including the enactment of updated laws, regulations, and measures to strengthen the legal framework. In 2019, Resolution 02 was issued, which aimed to enhance business integrity by laying down measures that mitigate corruption. The motive was to elevate Vietnam's competitiveness and bring it under the bucket of the top four ASEAN countries. The nation has witnessed the implementation of anti-corruption actions and the prosecution of high-ranking officials involved in corruption cases, signifying a commitment to combating the said issue.
Current state of FDI inflow: Statistics and figures highlighting the overall FDI inflow trend in recent years
Vietnam established itself as a top destination for FDI in 2020, attracting a substantial inflow of $28.53 billion. This growth continued in 2021, with FDI reaching $31.15 billion. However, in 2022, the figure experienced a slight decline to $27.72 billion.
As of March 20, 2023, Vietnam had 36,881 active projects with a total registered capital of around $444.1 billion. The cumulative realized capital from FDI projects exceeded $278.3 billion, representing nearly 62.7% of the total registered investment capital.
According to the latest updates from the Department of Foreign Investment (DFI) as of May 20, 2023, FDI in Vietnam has shown significant improvement. In the first five months of 2023, the total registered FDI amounted to approximately $10.86 billion. Newly registered capital reached over $5.26 billion, indicating a notable increase of 27.8% compared to the same period in 2022. However, adjusted capital amounted to $2.28 billion, reflecting a decline of 59.4% compared to the previous year. Investment capital through capital contribution and share purchase reached nearly $3.32 billion, showing a substantial growth rate of 67.2% compared to the corresponding period in 2022.
FDI attractiveness has shown improvement in May 2023, with a 10.6 percentage point gain compared to April 20, 2023. Although the overall registered FDI amount in the first five months of 2023 is lower than the previous year, the number of registered projects has increased by 17.9%. This surge in projects is primarily driven by capital increase and newly granted projects, which have grown by 66.4% and 22.8% respectively. However, the number of projects investing money and purchasing stock has slightly decreased by 4.6%, from 1,339 to 1,278.
The Foreign Investment Agency reports that new projects are growing faster than overall investment capital, indicating sustained interest and confidence from small and medium-sized foreign investors in Vietnam's investment climate. It is worth noting that multinational firms are cautiously evaluating the impact of the global minimum tax policy and considering significant investments in Vietnam.
Analysis of FDI Inflow by Industries
| | | |
| --- | --- | --- |
| | New Project | Newly Registered Capital ($USm) |
| Manufacturing and processing | 379 | 8460 |
| Real estate industry | 32 | 1531 |
| Professional, scientific, and technical activities | 195 | 631 |
| Wholesale and retail; repair of motor vehicles and motorcycles | 367 | 515 |
| Transportation and storage | 62 | 212 |
| Financial, banking, and insurance activities | 7 | 1534 |
| Accommodation and food service activities | 34 | 57 |
| Production, electricity, gas, steam, and air conditioning supply | 8 | 119 |
| Information and communication | 128 | 193 |
| Construction | 16 | 125 |
Source: Vietnam's Ministry of Planning and Investment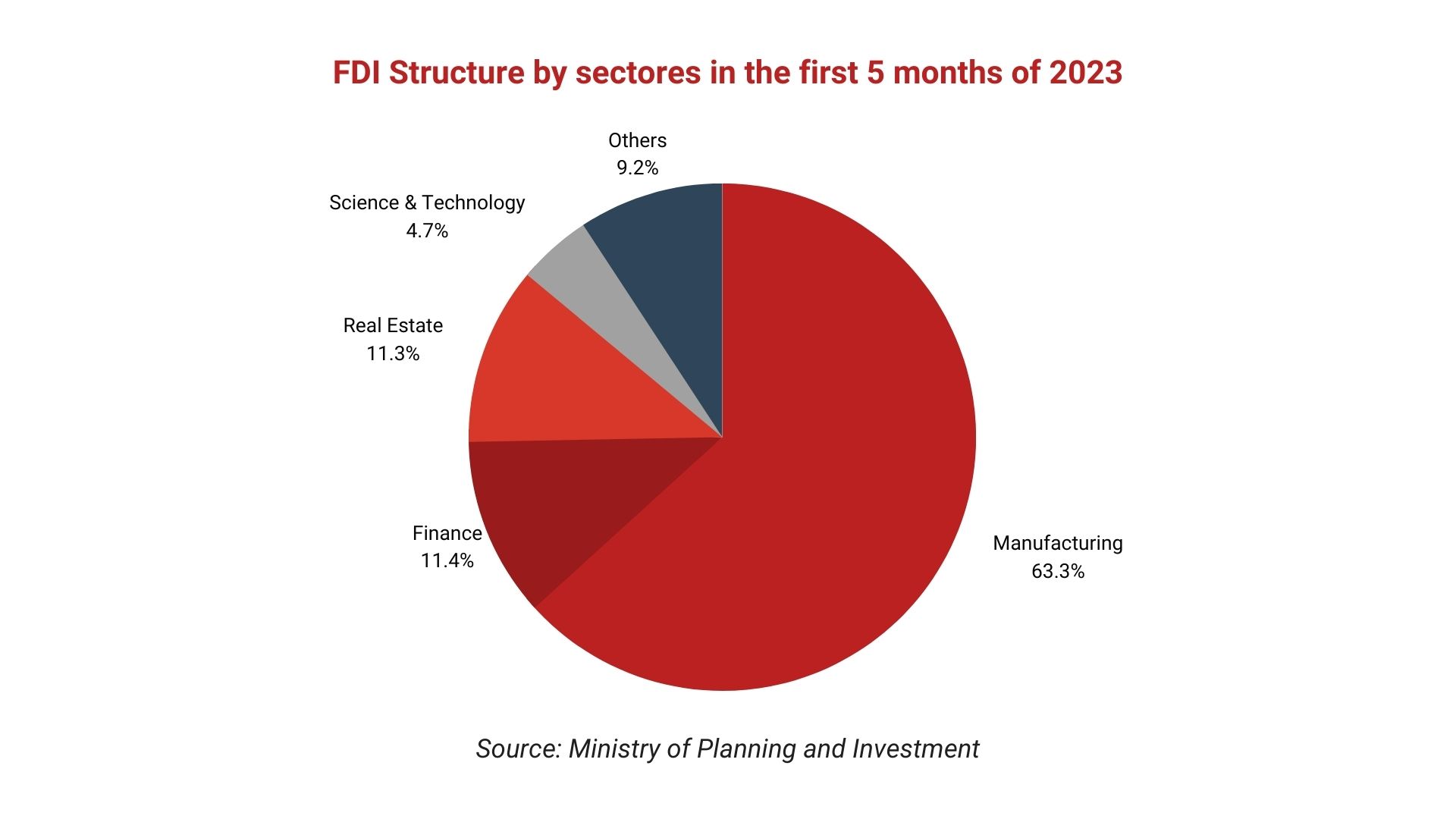 In the first half of 2023, foreign capital is primarily focused on 18 sectors and key areas in the industry and profession field. The processing and manufacturing industry leads with over $8.46 billion in investment capital, representing 63% of the total registered investment. This highlights the significant interest and development potential of this industry for foreign investors in Vietnam's economy.
The finance and banking sector attracts over $1.53 billion in investment, accounting for over 11.4% of total registered investment capital. The real estate business sector follows closely with nearly $1.5 billion in registered capital, while professional activities and science-technology attract around $630.6 million. These sectors have experienced substantial growth in foreign investment, demonstrating interest in real estate development, specialized research, and technological applications in scientific fields.
These figures indicate that foreign investors recognize the opportunities and high potential of these key sectors and fields. This can create favorable conditions for economic development and enhance international cooperation in the industry and related areas.
According to Vietnam's Ministry of Planning and Investment, Manufacturing is the industry with the most new projects (29.3% of all projects) and capital adjustments (54.6% of all projects), according to data on new projects. The majority (42.8%) of GVMCP transactions are between wholesale and retail.
Source Countries of FDI
| | | |
| --- | --- | --- |
| Countries | New Project | Newly Registered Capital ($USm) |
| China | 233 | 1954 |
| Singapore | 163 | 3000 |
| Taiwan | 84 | 895 |
| Japan | 135 | 2208 |
| United States of America | 52 | 405 |
| Republic of Korea | 223 | 1219 |
| Hong Kong | 114 | 941 |
| Cayman Islands | 2 | 191 |
| Thailand | 16 | 385 |
| Netherlands | 23 | 34 |
Source: Vietnam's Ministry of Planning and Investment
90 countries and territories have invested in Vietnam in the first six months of 2023. With a total investment of more than 3 billion USD, Singapore leads with more than 22.3% of all investment capital in Vietnam, a decrease of 27.5% from the same period in 2022; Japan came in second with nearly 2.21 billion USD, representing 16.4% of all investment capital and an increase of nearly 2.1 times over the same period in 2022. China came in third with more than $1.95 billion in total registered investment capital or 14.5% of total investment capital, and a growth of 53.5% over the same time period, ahead of Korea, Hong Kong, Taiwan,… China is the country with the most projects overall and the most new projects (18%). Korea is first in both the percentage of capital adjustments (26.4%) and GVMCP (28.9%).
FDI Inflow by Geographical Regions
| | | |
| --- | --- | --- |
| Cities | New Project | Newly Registered Capital ($USm) |
| Ha Noi | 196 | 2266 |
| Ho Chi Minh City | 514 | 1392 |
| Bac Ninh | 139 | 829 |
| Hai Phong | 42 | 904 |
| Binh Duong | 39 | 1043 |
| Long An | 42 | 525 |
| Bac Giang | 37 | 1252 |
| Tay Ninh | 12 | 477 |
| Hung Yen | 19 | 387 |
| Dong Nai | 36 | 776 |
Source: Vietnam's Ministry of Planning and Investment
In the first six months of 2023, foreign investors made investments in 52 provinces and cities around the nation. With about 2.27 billion USD in registered investment capital or roughly 16.7% of overall investment capital, Hanoi is in first place. logged and grew by more than 3 times compared to the same time in 2022. With a total registered investment capital of more than $1.39 billion USD, Ho Chi Minh City overcame Bac Giang and took second place, making up roughly 10.4% of the total capital invested in the entire nation, which fell 37.1% during the same period. Bac Giang, Binh Duong, Hai Phong,…Ho Chi Minh City is the largest city in Vietnam in terms of the total number of projects, including new projects (38.9%), adjusted projects (24.9%), and GVMCP (65.4%).
Potential for Future FDI Inflow
Identification of emerging sectors
Processing and Manufacturing industry
The processing and manufacturing industry accounted for the majority of Vietnam's FDI, attracting 58.2% in 2020. Thanks to the country's commitment to implementing favorable policies and creating a fair and unbiased business environment. The government is actively engaged in supporting various industries and facilitating deeper engagement with existing and potential investors, enabling orderly deconcentration of FDI management.
Real Estate
The real estate market in Vietnam has experienced remarkable growth, positing it as one of the most rapidly growing in Southeast Asia, regardless of the challenges posed by the pandemic. The first two quarters of 2021 witnessed a significant year-on-year increase of 270% in new supply. In major cities like Hanoi and Ho Chi Minh City, the office real estate sector has exhibited strong performance, with occupancy rates reaching approximately 90%.
Power Generation, Transmission and Distribution
The power generation market encompasses the following five different segments:
Consulting and Engineering Services
Machinery, Equipment, and Materials
Investment in new IPP power projects in the form of BOT, BT, BTO, and JV
presents itself with tremendous opportunities for FDI inflow
Installation and Construction Services
Supply of Equipment, spare parts, materials, consumables, and overhaul and maintenance services
Over the past two decades, the U.S. Trade and Development Agency (USTDA) has allocated approximately USD 20 million to fund nearly 80 activities in Vietnam. USTDA is currently collaborating with Electricity Vietnam (EVN) and its subsidiary, the National Power Transmission Corporation (EVN-NPT), to support the development of an information technology and smart grid roadmap.
IT Industry
The increasing privatization of state-owned companies, particularly in the telecommunications and banking sectors, presents an attractive avenue for foreign investors. One of Vietnam's key strengths is its young and tech-savvy population, with the digital generation accounting for 21% of the population. With a substantial number of internet users, reaching 72.1 million in 2022, Vietnam showcases its potential as a digital market. The country's IT education system, overseen by the Ministry of Education and Training, has undergone reforms to enhance innovation and flexibility.
Green Energy
Vietnam's commitment to addressing its energy requirements is complemented by its strong partnerships with European leaders in clean energy. This collaboration has facilitated the rapid progress of the country's transition to renewable energy. It has also created favorable prospects for foreign investors seeking opportunities in the country. Further, the recent BB rating assigned to state-owned Vietnam Electricity Group (EVN) by Fitch Ratings has generated optimism among foreign investors. This positive rating reflects EVN's growth potential and financial strength, with Fitch projecting further improvement in these areas going forward. The favorable rating and outlook have instilled confidence in foreign investors, encouraging their participation in Vietnam's energy sector.
Identification of emerging regions
Ho Chi Minh City and Hanoi, which collectively contribute 40% to Vietnam's GDP, have both embarked on a journey to transform into sustainable urban centers. The Vietnamese government has embarked on an ambitious plan to establish these cities as the country's first smart cities, leading to the initiation of multibillion-dollar projects. The implementation of smart city initiatives in Ho Chi Minh City began in 2017 and is currently in its second phase. In collaboration with Korea's Lotte Group, the Ho Chi Minh City People's Committee has launched a two-billion-dollar eco-smart city project in Thu Thiem New Urban Area.

Similarly, Hanoi has set its sights on becoming smart, green, and modern by 2030. The development of Nhat Tan-Noi Bai is a testament to this vision, as it receives significant investments of more than four billion dollars from Japan's Sumitomo Corporation and Vietnam's BRG Group.
On the basis of national consensus and research findings, the five cities in Vietnam, which produce ample opportunities for doing business are Da Nang, Bac Ninh, Binh Duong, Hai Phong, and Phu Quoc.
Da Nang
This city with its immaculate links, in terms of broad roadways, an airport link, and a shipping port, connects the city to Vietnam and other Asian nations, paving the way for investments and business ventures. Its competitive industries include retail, hi-tech manufacturing, and IT.
Bac Ninh
Considered one of the busiest towns in Vietnam, Bac Ninh has flourished into an important manufacturing center. The city records Vietnam's second-highest per-individual income and has one of the fastest economic development rates in the country. Bac Ninh's competitive industries are electronics and industrial automation.
Binh Duong
Binh Duong is rapidly becoming an optimal destination for foreigners to conduct business. Following Ho Chi Minh City in its steps, the region is an attractive destination for FDI, with 30 industrial zones. Its competitive industries include technology and agriculture.
Hai Phong
Hai Phong boasts of collaborative and modern development and is, therefore, becoming alluring to both domestic and foreign investors. It is a port community for conducting commerce in northern Vietnam. Automotive is the city's competitive industry.
Phu Quoc
Phu Quoc, the largest and most populous island in Vietnam, offers excellent business opportunities due to its significant size and population. Over the past few years, Phu Quoc has experienced remarkable growth and has emerged as one of Vietnam's rapidly developing regions, with the tourism industry dominating the island's economic backbone.
Government Initiatives and Policies
The Vietnamese government has implemented initiatives and policies to attract investors and create a favorable investment environment. They have prepared land, factories, and energy facilities, and provided incentives for projects with advanced technology. They have also enabled Vietnamese businesses to participate in the global value chain, boosting their competitiveness.
Vietnam's recognized efforts and achievements have positioned it as a secure and appealing investment destination. Its competitive advantages, ongoing investment environment reforms, global stature, and effective response to COVID-19 have contributed to its positive reputation. Despite the global FDI decline of 40% projected in 2020, Vietnam has remained relatively positive, attracting nearly $20 billion in registered capital within the first eight months of the year. The influx of new and additional capital, increasing by 6.6% and 22.2% respectively, showcases the government's commitment to attracting high-quality FDI.
Vietnam's 10-year development strategy focuses on institutional breakthroughs, infrastructure development, and human resource enhancement. The government recognizes the need for flexibility in response to the challenges of the COVID-19 pandemic. It is committed to taking objective and prompt measures to minimize its impact and maximize opportunities.
The State Bank of Vietnam has outlined its priorities for 2021-2025 to seize opportunities. Thus, it will focus on completing a comprehensive monetary and banking legal framework, including laws on credit institutions and deposit insurance. This will enable credit institutions to offer diverse financial services. The central bank will enhance banking supervision using risk-based approaches aligned with international standards, moving beyond compliance inspections.
Conclusion
In analyzing Vietnam's FDI inflow, it becomes evident that the country has successfully positioned itself as an attractive investment destination. With a stable political environment, favorable investment climate, and strategic geographic location, Vietnam has been able to attract substantial FDI across various sectors. The country's proactive approach to addressing its energy needs and its collaboration with clean-energy leaders in Europe have accelerated its renewable energy transition.
Vietnam's current state reflects a strong FDI inflow, with substantial investments and positive growth trends. Besides, the government's focus on sustainable development is evident in the plans to transform Ho Chi Minh City and Hanoi into smart and green cities. The growth of sectors like renewable energy, IT, and tourism further contributes to Vietnam's appeal as an investment destination. Accordingly, the future potential for FDI growth in Vietnam remains bright.
About Us
InCorp Vietnam is a leading provider of global market entry services. We are part of InCorp group, a regional leader in corporate solutions, that encompasses 8 countries in Asia-Pacific, headquartered in Singapore. With over 1,100 legal experts serving over 15,000 Corporate Clients across the region, our expertise speaks for itself. We provide transparent legal consulting, setup, and advice based on local requirements to make your business perfectly fit into the market with healthy growth.
Don't take our word for it. Read some reviews from some of our clients.