The startups in Vietnam, particularly in Ho Chi Minh City, have been rapidly growing over the past several years. However, one of the challenges that many of these startups encounter is whether to rent or own an office space or use a virtual office in Ho Chi Minh City. If you're a business owner yourself, you will know that opening and maintaining a physical office is one of the most expensive moves a startup can undertake.
Therefore, many startup companies in Ho Chi Minh City are advised to go ahead with virtual office at an early stage. Virtual offices have shown to bring many benefits to entrepreneurs, no fewer than a real physical office. Some of the benefits include a sense of professionalism, low costs and potential for expansion.
Read on about InCorp Vietnam's virtual office options in Ho Chi Minh City
This article elaborates the benefits that can be enjoyed by startups in Ho Chi Minh City from using a virtual office.
Having a physical office is not time-consuming but expensive. Apart from the monthly rent or mortgage installment, you will also need to factor in the expenses for office supplies, furniture, receptionist and other utilities. Plus, sometimes your office might be located somewhere inconvenient and shabby.
One of the key advantages of a virtual office is that you are able to give a good impression to your potential clients with a prestigious business address. The price you pay will be much lower compared to renting a physical office in the same location.
Convenience with a Professional Receptionist Team
Unlike having to hire a receptionist in your own office or even answer the phone yourself, a good virtual office provider comes with a professional receptionist team to do that for you.
This will further boost your startup by showing your professionalism and, as mentioned before, create a good impression to your clients. They reckon that you are a well-established business and you take your business seriously.
Great Flexibility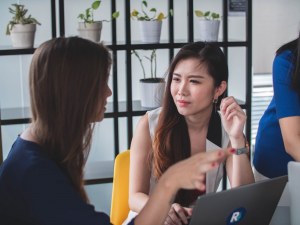 Another key benefit of a virtual office is its high flexibility. As a new business entering volatile market conditions, you need to have a solid business plan and be careful with every step you take. An important part of your business plan is to prepare for changes and be able to adapt to the situation immediately.
A virtual office can do that for you. It is flexible and allows your business to scale anytime you want according to the market changes and demands. Virtual offices come with flexible packages with no long-term commitment.
RELATED: Reduce Errors & Overhead Costs with payroll & HR Outsourcing in Vietnam
Good for the Environment and Employee's Well-Being
It's a fact that more and more people see freedom and flexibility as an important part when looking for a job. An attractive salary is not the only thing that most candidates consider now.
Therefore, a virtual office not only allows employees to work anytime and anywhere they want, but it also helps them to cut down the time spent on daily commute. With no time used for commuting, they can spend time to be more productive. What's more, the less fuel used for transportation will help save our Mother Earth.
InCorp Vietnam's Virtual Office in Ho Chi Minh City, Vietnam
InCorp Vietnam offers you the most competitive virtual office packages catered to your business needs with the following perks:
A premium location with a professional business address
A mailing address with a proper mailbox to receive and send your mails
A dedicated phone number in Vietnam with custom call handling
A selection of meeting and conference rooms on demand based on your requirements
A team of legal experts and professional consultants to provide you with free business consultancy
See our updated Real Estate Service license and locations here.
About Us
InCorp Vietnam is a leading provider of global market entry services. We are part of InCorp group, a regional leader in corporate solutions, that encompasses 8 countries in Asia-Pacific, headquartered in Singapore. With over 1,100 legal experts serving over 15,000 Corporate Clients across the region, our expertise speaks for itself. We provide transparent legal consulting, setup, and advice based on local requirements to make your business perfectly fit into the market with healthy growth.
Don't take our word for it. Read some reviews from some of our clients.