Do not hesitate to establish a company in Vietnam amid the coronavirus outbreak. Carried out online, the process is MUCH FASTER. Free consultation & enjoy 20% OFF if you incorporate this month.
In 1 to 3 months, your company will already be fully established and by that time, the pandemic may have receded. Your business operations can start right away.
How to form a company in Vietnam
Foreign investors can form several kinds of legal entities with a Limited-Liability Company (LLC) and a Joint-Stock Company (JSC) being the most popular choices of company registration in Vietnam.
The legal entity is then categorized based on the percentage of its foreign investment. As most industries in Vietnam allow foreign entrepreneurs to own up to 100% of shares, a Wholly Foreign-Owned Enterprise (WFOE) is a common business structure in Vietnam. International investors can also find a local partner and incorporate a Joint Venture Company with local-foreign ownership.
Available Legal Entity Types in Vietnam
LLC is the most common legal entity type in Vietnam and an excellent choice for small and medium-sized enterprises (SMEs). Single investors can take advantage of its simple corporate structure, which requires one founder only. LLC is not permissible to issue public shares and be publicly listed on the Vietnamese stock exchange.
JSC is recommended for medium and large-sized businesses as its corporate structure is complicated and requires a minimum of three founders. Furthermore, its registration process is often delayed due to more demanding requirements. This kind of a shareholding company allows its owners to issue shares and be listed on the public stock exchange.
RO is perfect for foreigners wanting to observe the local market and gain market presence before expanding. An RO is not allowed to conduct business activities that generate income and behave like an ordinary company. It is possible for the RO's head office to sign, adjust/supplement contracts on behalf of foreign company, if s/he is authorised by its legal representative, with the power of attorney being present.
Branch
A branch serves as an extension of its parent company. Owners of branches in Vietnam can conduct all parent company's commercial activities and make a profit without incorporating a separate legal entity.
The Process of Vietnam Company Registration
The incorporation process of each legal entity type is different and takes from 1 to 3 months.
In general, foreign investors should pursue the process as follows:
International investors are obliged to obtain an Investment Registration Certificate (IRC) from the Department of Planning and Investment (DPI).
An Enterprise Registration Certificate (ERC), is the second mandatory document to be obtained during the registration procedure.
After receiving both certificates, investors are obliged to proceed with their tax registration, pay business license tax and make their initial capital contribution.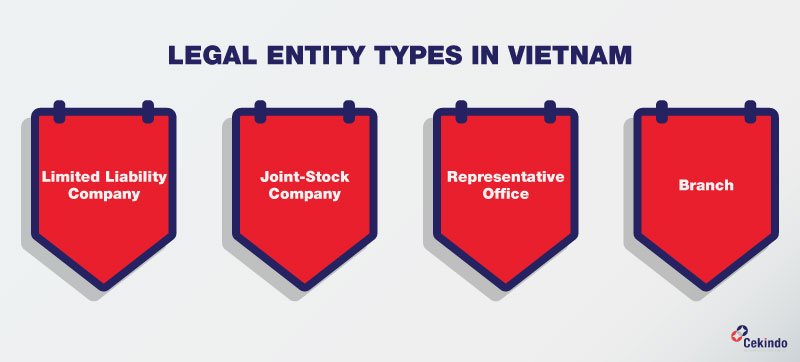 Consult with Us
How can Cekindo help your business registration in Vietnam?
Advise on the most suitable legal entity type.
Provide instructions on collecting relevant documents and submission of applications.
Act as a local representative to submit your application on your behalf without you being in the country.
Provide legal assistance during the business registration set up.
Assist in applying for Work Permits.
Step-by-Step Guide of Forming Company in Vietnam
Submit your inquiry below
Receive a response from our legal team within 24 hours
Receive a 1-hour free consultation via phone call or a virtual meeting
Send us all the required documents
Service payment
Let our team process your licensing application on your behalf