Vietnam has embraced economic liberalization with great enthusiasm and invested in human and physical capital, both through public investments as well as opening up the economy to foreign investments. Moreover, the country effectively complemented global liberalization with domestic reforms through ease of doing business and deregulation. Vietnam has signed significant free trade agreements in the last three decades with over 200 nations, including individual-based agreements as well as those signed via economic blocs. This is significant considering that before the 1990s Vietnam's economy was completely insular, similar to that of North Korea. For instance, in 1995, Vietnam became a part of the ASEAN free trade area, and in 2007 it joined the WTO, later signed a free trade agreement with the US, once Vietnam's fiercest enemy. This article serves as a comprehensive guide to Vietnam's free trade agreements.
Investing in Vietnam? See Cekindo's Company Incorporation Services
Vietnam's trade background: From a hermit nation to an essential member of world trade
In 1986, Vietnam decided to rescue its economy from the failures of a system setup based on communist central planning and bring profound changes to the country. The government introduced a series of political and economic reform policies known as Doi Moi.

Post-implementation of these reform policies, Vietnam's economy successfully revived itself and steered to become a "socialist-oriented market economy". As a result, the country has become an integral part of global trade through increased participation in regional and international institutions and agreements such as the Asia-Pacific Economic Cooperation (APEC) forum, the Association of Southeast Asian Nations (ASEAN), the World Trade Organization (WTO), and the United Nations (UN).
In 2007, Vietnam became the 150th member of the WTO and committed to fully comply with agreements laid down by WTO on Customs Valuation, Technical Barriers to Trade (TBT), and Sanitary and Phytosanitary Measures (SPS), according to the US Trade Commission.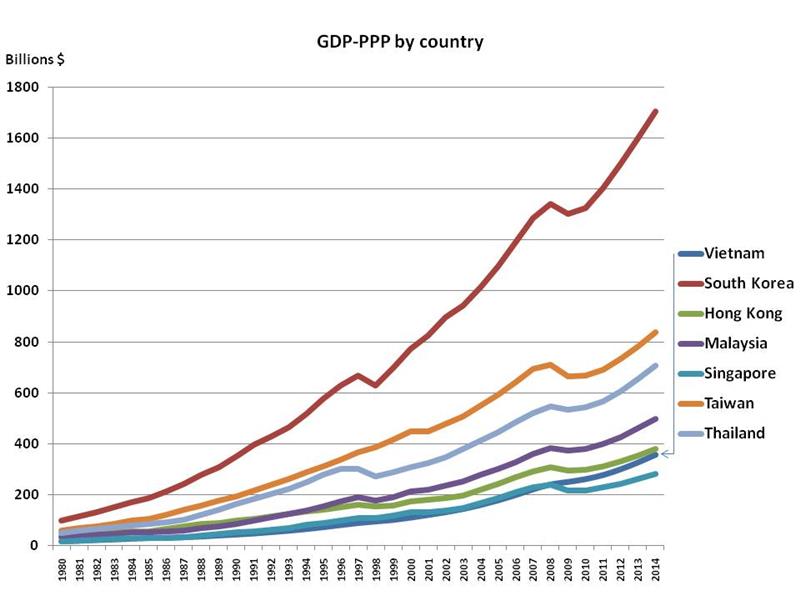 Including trading blocs and one-on-one agreements Vietnam is signatory to the following trade agreements:
1. EU-Vietnam Free Trade Agreement
With a motive to bolster trade relations and deepen international integration, a free trade agreement between the European Union and the Socialist Republic of Vietnam was signed in July 2018.
The EU- Vietnam Free Trade Agreement (EVFTA) is aimed at providing opportunities to shore up the trade volumes, boost the job market and foster economic growth on both sides, through
Removal of up to 99% of import taxes
Protecting the interest of investors
Elimination of bureaucracy and repeating red tapes
Reduction of trade barriers
Encourage the use of public procurement markets and services
Low-risk and safe trades with Vietnam through the enforced agreement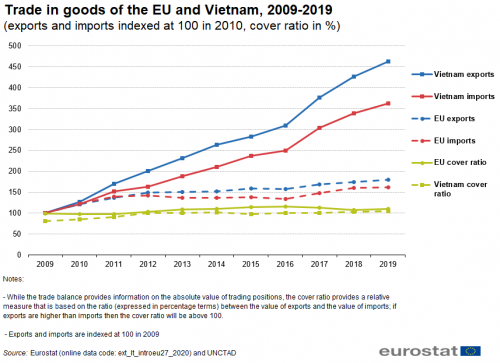 2. Vietnam & the Trans-Pacific Partnership (CPTPP) – Trans-Pacific Trade
One of the world's largest free-trade areas, The Comprehensive and Progressive Agreement for Trans-Pacific Partnership (CPTPP), consists of 11 signatories countries representing 13.4% of the global GDP (approx USD 13.5 trillion). The CPTPP was created after the United States refused to sign the original TPP trade agreement under President Donald Trump. The CPTPP includes most of the original member nations excluding the US. The countries participating in the new agreement are:
Australia
Brunei
Canada
Chile
Japan
Malaysia
Mexico
New Zealand
Peru
Singapore, and
Vietnam
With the agreement in force, taxes on 43% of Vietnam's garment exports to Canada will be eliminated with immediate effect, and after four years, they will be slashed by 100%. The agreement also focuses on Vietnam's labor reforms and improving the work environment. This agreement came into force on the 14th of January 2019 for Vietnam.
3. Vietnam-UK Free Trade Agreement
Trade between the UK and Vietnam doubled between 2011 and 2020, demonstrating a solid bilateral trade relationship with a strategic commitment to global trade. The UK-Vietnam FTA (UKVFTA) not only aims at fostering exchange between the countries but also contains chapters on government procurement, state-owned enterprises, and market competition.

Tariff Elimination under UKFTA
For goods exported by the UK to Vietnam:
48.5% of tariffs lines were removed on 01 January 2021;
91.8% of tariff lines will be removed by 01 January 2027;
98.3% of tariff lines will be removed 01 January 2029;
1.7% of tariff lines are partially liberalized through tariff-rate quotas or not entitled to special treatment
For goods imported from Vietnam into the UK:
85.6% of tariff lines were removed on 01 January 2021;
99.2% of tariff lines will be removed by 01 January 2027;
0.8% of tariff lines are partially liberalized through tariff-rate quotas
The agreement also put adequate focus on market liberalization for goods, services, and investments. Moreover, there are commitments relating to sustainable development, labor welfare, and social responsibility.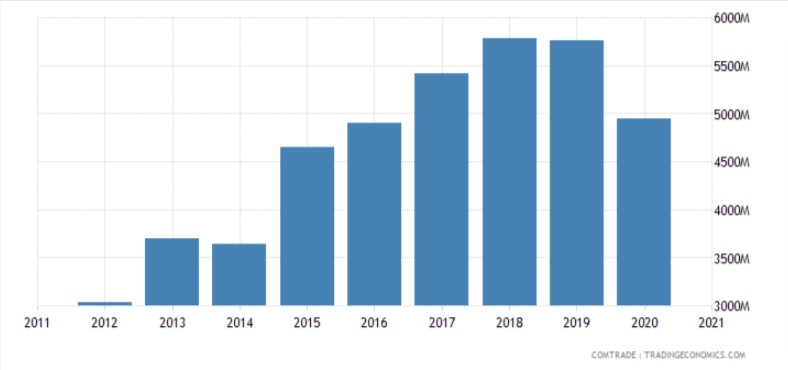 4. The U.S.-Vietnam Bilateral Trade Agreement (BTA)
In 2020, the trade of goods and services between the US and Vietnam registered USD 92.2 billion (approx), out of which US exports to Vietnam clocked USD 12.1 billion, whereas imports to the US accounted for USD 80.1 billion.
To ensure that both sides have fair access to expand into the other's markets, The U.S.-Vietnam Bilateral Trade Agreement (BTA) was brought into action. The agreement is a comprehensive treaty that covers themes like trade in goods and services, investment protection, intellectual property rights protection, and business facilitation.
RELATED: Vietnam has Some of the Lowest Operating Costs in Asia
When Vietnam became a member of the World Trade Organisation(WTO) in 2007, the tariff rates significantly dropped and continued to decrease steadily over the years. Hence, the majority of the exports to the US are only liable for tariffs of 15% or less.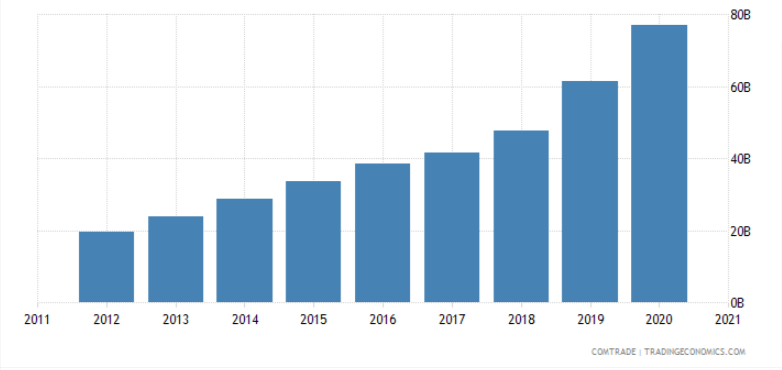 5. ASEAN – Regional Free trade agreement
Incepted to boost local trade and manufacturing in all ASEAN countries, the ASEAN Free Trade Area (AFTA) is recognized as one of the world's most significant free trade areas. Moreover, it influenced some of the world's largest trade forums and blocs, including the Regional Comprehensive Economic Partnership, Asia-Pacific Economic Cooperation, and East Asia Summit.
AFTA currently consists of the following ten countries:
Brunei
Indonesia
Malaysia
Philippines
Singapore
Thailand.
Vietnam
Laos
Myanmar
Cambodia
AFTA is committed to making ASEAN a production hub in the global market by eliminating tariffs and non-tariff barriers. For instance:
Import duties on at least 80% of tariff lines are removed;
Import duties on all Information and Communications Technology (ICT) products, as defined in the e-ASEAN Framework Agreement, are removed;
Import duties on all Priority Integration Sectors (PIS) products are removed, barring those listed in the accompanying negative lists to the Protocols of the ASEAN Framework Agreement for the Integration of Priority Sectors and any amendments thereto;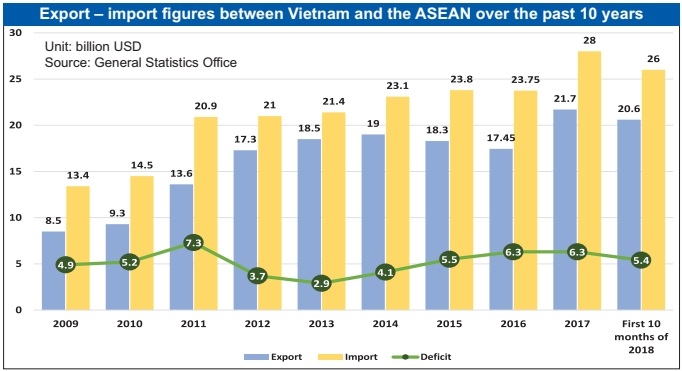 RELATED: Vietnam Business Opportunities 2022
6. Vietnam and China Free Trade under ASEAN
China exported USD 104 billion worth of products to Vietnam in 2020, which consisted primarily of telephones, integrated circuits, and pure cotton yarn. Vietnam imported USD 49.4 billion worth of products from China in 2020.

In the year 2000, Leaders of ASEAN and China came together to explore the possibilities of facilitating deeper economic integration within the regions. In the following year, the idea of establishing the ASEAN–China Free Trade Area was endorsed.
China's trading with ASEAN countries grew from USD 59.6 billion to USD 192.5 billion in 5 years (2003-2008) and clocked a combined nominal gross GDP of USD 6 trillion (approx) in 2008. In 2010, the average tariff rate on Chinese goods sold in ASEAN countries dropped from 12.8% to 0.6%, whereas the tariffs on ASEAN goods sold in China were slashed from 9.8% to 0.1%.
Eventually, the ASEAN–China Free Trade Area transformed into the largest free trade area in terms of population covered and 3rd largest in terms of nominal GDP. In 2015, ASEAN's total merchandise trade with China registered an impressive USD 346.5 billion.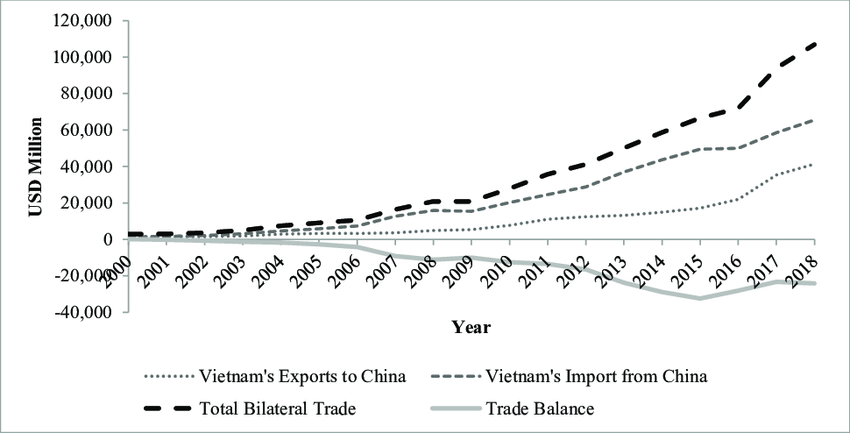 7. Trade between Vietnam and Australia/New Zealand under AAFTA-ASEAN
Envisaged to create new opportunities for investors in ASEAN and Australia, and New Zealand, AANZFTA was formed. It is a comprehensive free trade agreement that aims for sustainable economic growth between the two blocks by adopting a transparent and facilitative investment regime. Vietnamese exports to Australia reached $3.62 billion before the onset of the Covid-19 pandemic, according to United Nations figures. On the other hand, exports from Australia to Vietnam clocked USD $9.8 billion.
As a result of the AANZFTA, the following can be expected:
Tariffs will be gradually reduced and eliminated for at least 90% of all tariff lines;
Enable seamless movement of goods using advanced and flexible rules of origin, streamlined procedures, and more transparent mechanisms;
Barriers to service trade will be gradually removed, providing service providers in the region greater market access.
Protecting the interest of investors

8. Vietnam – South Korea Free Trade Agreement (VKFTA)
Incepted with a vision to increase bilateral trade, boost investment opportunities, and foster economic growth, the Vietnam-Korea free trade agreement (VKFTA) came into effect in 2015. Since then Korea has quickly become one of the top investors in Vietnam.
As per the agreement, South Korea shall eliminate 95% of tariff lines on products imported from Vietnam, and Vietnam shall remove 90% of tariff lines on goods imported from Korea. The agreement also focuses on issues like competition policy, intellectual property rights, and environmental rules in both countries.
With the agreement in effect, South Korea committed to allowing the entry of around 500 more items from Vietnam. It shall also reduce import tariffs on products such as tropical fruits, shrimp, fish, crab, garments and textiles, and wooden products.
Moreover, the implementation of VKFTA will aid in creating 400,000+ job opportunities in Vietnam as the country is already hosting nearly 3,000 Korean companies, according to Mondaq.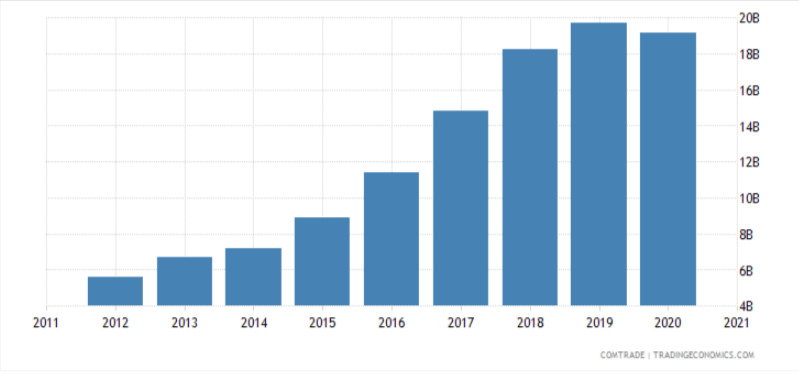 9. Vietnam- Japan Free Trade Agreement (VJFTA)
Before the pandemic, Japan's exports to Vietnam stood at USD 19.11 billion, whereas exports from Vietnam to Japan were USD 21.2 billion. Exports to Vietnam majorly consisted of insulated wire, broadcasting equipment, and fuelwood.

To further bolster the trading sector and improve the business environment within the regions, The Vietnam-Japan Economic Partnership Agreement (VJEPA) was brought into action in 2009. As per the agreement, Vietnam will strive to eliminate 90.64% of the tariff lines.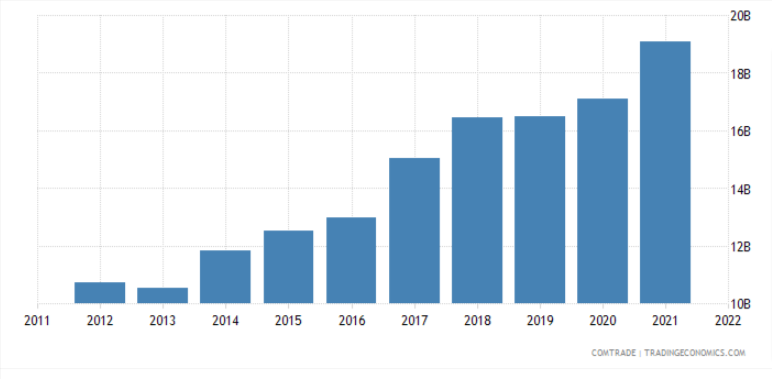 10. Vietnam-India Free Trade Agreement
In 2003, the Leaders of ASEAN and India signed the ASEAN-India Framework Agreement on Comprehensive Economic Cooperation. The agreement also laid a solid foundation for establishing the ASEAN-India Regional Trade and Investment Area (RTIA).
According to WTOcenter, ASEAN and India signed the ASEAN-India Trade in Goods (TIG) Agreement in 2009, which paved the way for creating one of the world's largest FTAs. The agreement covers approximately 1.8 billion people with a combined GDP of USD 2.8 trillion. With the agreement in effect, both trading blocks shall agree to deliver on the following terms:
Tariff liberalization of over 90% of products traded between the two countries
Elimination of tariffs on over 4,000 product lines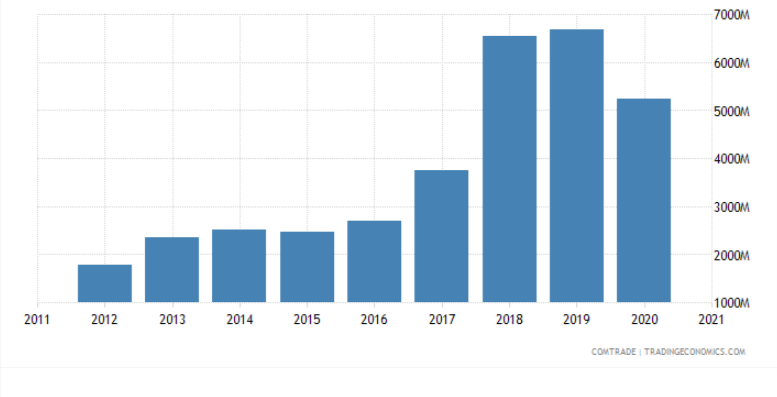 11. Vietnam – Eurasian Free Trade Agreement
The Free Trade Agreement between Vietnam and Eurasian Economic Union (EAEU – including Russia, Armenia, Belarus, Kazakhstan, and Kyrgyzstan) opened up a market of 181 million people to Vietnamese businesses.
According to data from the General Department of Customs, Vietnam exported 323.26 million USD worth of agricultural, forestry, and fishery products to the Russian market in the first seven months of 2021, an increase of 34.2% over last year. Additionally, according to the WTO, the export turnover for aquatic products as well as agricultural products grew by more than 50% over the same period last year.
On the other hand, in 2020, Russia exported coal briquettes, hot-rolled iron, and pork meat worth USD 1.78 billion to Vietnam.
As part of its 10-year reduction schedule, Vietnam plans to open the market for about 90% of its total tariff lines. In accordance with the VN-EAEU FTA, both the trading blocs shall agree to deliver on the following terms:
Elimination of tariffs on items on the EAEU's priority list at the time of entrance into force (EIF), including agricultural commodities
After 3-5 years since EIF, tariff elimination for processed meat and fish, electrical machinery, machinery used in the agricultural sector
After 5 years since EIF, tariff elimination for pork and chicken
After 10 years since EIF, tariff elimination for alcoholic beverages and cars
*source: WTOcenter
13. RCEP, the largest trade deal initiated by China
The Regional Comprehensive Economic Partnership (RCEP) is a new free trade agreement between Australia, Brunei, Cambodia, China, Indonesia, Japan, South Korea, Laos, Malaysia, Myanmar, New Zealand, the Philippines, Singapore, Thailand, and Vietnam in the Asia-Pacific region. This agreement, spearheaded by China, has come into effect as of January 1, 2022. As it covers almost 30% of the global population, it is considered the world's largest FTA.
As far as Vietnam is concerned, RCEP is expected to give the agricultural industry a big boost, as it simplifies the process of entering the Chinese market (one of the biggest consumer markets in the world) as well as reducing tariffs. However, as this agreement just came into effect three months before this article was published, there is little data to examine for the time being on the actual results of the FTA.
Other FTA's Vietnam is a signatory to:
Vietnam – Cuba Trade Agreement
Signed in 2018, The Vietnam-Cuba Trade Agreement includes 14 chapters focussing on regulations on rules of origin, trade in goods, trade defense, and technical regulations.
As per the agreement, both sides will strive to completely remove or reduce taxes for all the products that are imported from each other's market.
Vietnam-Chile Free Trade Agreement
Within the structure of the Asia-Pacific Economic Cooperation (APEC) forum, Vietnam and Chile signed a Free Trade Agreement (FTA) in 2011.
The agreement will provide the following benefits to both countries
73% of exports from Chile will enjoy tariff-free entry to Vietnam, while the remaining products will benefit from the FTA. However, only 4% of products will be exempted.
Moreover, 75% of exports from Vietnam will enjoy a tariff-free entry to Chile, and the remaining products will get tax relief for a duration ranging from 6-11 years.
*Source: Chilean Government.
About Us
Cekindo Vietnam is part of InCorp Group, based in Singapore. Incorp is the largest corporate service provider in the APAC Region. We assist foreign companies with their market entry needs in Vietnam, including Company Registration, Accounting & Taxes, HR & Payroll, Product Registration, Employment of Record, and other services.