A great number of international investors are interested in buying an existing business instead of starting a new business in Vietnam. These smart entrepreneurs are looking for businesses that have achieved outstanding milestones and remained profitable for years. Furthermore such businesses already have all legal paperwork, compliance certificates and registrations established, making one's efforts to set up an entity in the country much easier. These are called "shelf companies".
Read About Cekindo's Shelf Company Purchasing Services in Vietnam
Such a business produces steady income without entrepreneurs having to start from scratch. A new business may take up 5 years, or even more, to see it prosper.
So, why not buying one that has already had its recurring customer base and profit, with a rapid expanding potential? This may sound easy, but buying a business in Vietnam also requires investors to take each step carefully.
In this article, we will take you to look at essential things to consider when buying an existing business in Vietnam.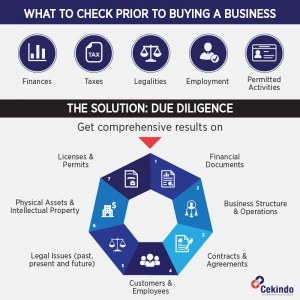 Consider These Before Buying a Business in Vietnam:
Assess your investment by digging deep into the following areas:
1. Financial Issues
Check the business' financial statements and understand its growth forecasts, reliability, return on investment, cash flow, earning, and exit potential from a local legal perspective.
2. Tax Compliance Issues
Examine the internal process of taxes, tax compliance history, tax liabilities, commercial and corporate structures, and latest tax audits and inspections.
RELATED: Shelf Company vs. Registering a Company in Vietnam
3. Legal Issues
Validate the business' legal compliance and documentation, asset ownership, ownership agreements, property, leases, legal claims, business restrictions, warranty issues, and others.
4. Employment Issues
Get yourself familiar with the employment process and structure of the business. Labour law in Vietnam is rather rigid and the management or dismissal of employees may be troublesome.
5. Permitted Activities
Understand the licensed or permitted activities of the business and if there is any impact upon the ownership change. Ensure that there are no specific restrictions for foreigners.
Ways to Mitigate Risks:
Mitigating risks when buying a business in Vietnam is highly possible and doable. Here are the three key elements you can undertake:
1. Valuation
Assess the target business critically with complete facts and evidence. This is how you can know if the buying price aligns with the assessment results.
A valuation can be undertaken internally as a general assumption and externally as a formal and professional process. A formal valuation process is critical.
2. Due Diligence
Another important element to eliminate risks for your investment is the due diligence process. It is highly recommended for you to have a detailed background screening and investigation of the target company.
Comprehensive due diligence allows you to find out any underlying and existing risks, providing a full picture of what you are acquiring. Effective due diligence of your target business shall combine all three types of due diligence: legal, financial, and commercial.
3. Structure
The structure of the target business must also be reviewed to ensure that it is suitable and legally appropriate to restructure upon the acquisition.
Checklist of Due Diligence in Vietnam
Proper due diligence should cover the below aspects:
Review financial documents
Verify the business structure and operations
Determine material contracts and agreements
Check customer and employee information
Identify pending legal issues
Determine real estate, physical assets, and intellectual property
Validate licenses and permits
How Cekindo can Assist
Buying a business in Vietnam is one of the quickest ways to own a business. If you are looking at buying a business in Vietnam, Cekindo can help you with the process of purchase and due diligence.
We can reach out to our network and help you find the ideal business for your purchase. We also do due diligence of the seller as a going concern, so that you get more value and confidence for your new business.
Are you looking at buying a business in Vietnam? You may have identified the business you desire to purchase but need a professional to carry out the due diligence and evaluate the business for you.
Cekindo is at your service. Contact us to tell us more about your requirements via the form below.