Decree No. 38/2022/NĐ-CP will impact people working in major cities such as Ho Chi Minh City and Hanoi. Essentially, it announces an approximate 6% increase in the minimum monthly wage for these urban areas, raising it to 4,680,000 VND. This new payroll regulation in Vietnam entered effect on July 1, 2022. If you are a foreign direct investor looking to set up in Vietnam, these are regulations you would be aware of.
Considering establishing a presence in Vietnam? See InCorp's Payroll Outsourcing Services
In this article, you will read more about the payroll update with regard to the minimum wage in Vietnam in 2022.
Increased Rate of Minimum Wage in 2022
In urban areas like Ho Chi Minh City, Hanoi, and Danang, the official minimum wage is 4,680,000 VND (~US$189). Notably, those considered "skilled", often holding university degrees or higher expertise, receive an extra 7% on top of their minimum wage. This approach encourages education and skill development, reflecting Vietnam's commitment to fostering opportunities for citizens' professional growth and earning potential.
The monthly minimum wage in Vietnam with the cost of living in each region with the increased rates as follows:
Region 1 (urban Ho Chi Minh City and Hanoi): increased by US$11
Region 2 (rural Ho Chi Minh City and Hanoi; Da Nanang): increased by US$10
Region 3 (provincial cities and districts of Bac Giang, Bac Ninh, Phu Tho, Vinh Phuc, Hai Duong, and other provinces not included in Regions 1 and 2): increased by US$9
Region 4 (the rest of the areas): increased by US$8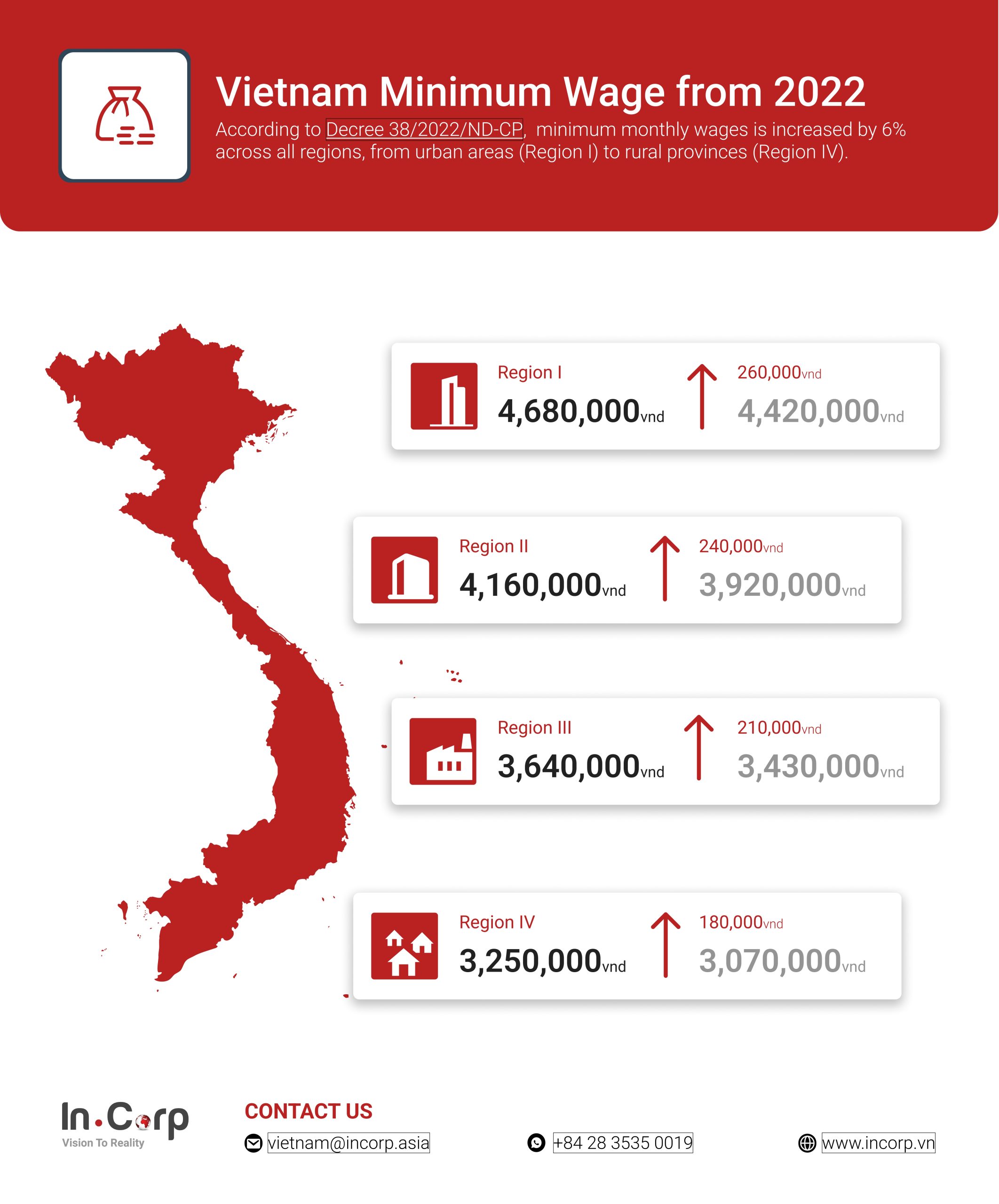 In addition to the minimum wage increase, if employees have undergone vocational training, their employers must pay them a salary that's 7% higher than the minimum wage. Furthermore, even with the minimum wage going up in 2022, employers are not allowed to cut employees' extra payments for working overtime, facing difficult conditions, or working during nighttime shifts.
The unemployment insurance's capped salary will also increase following the hike in the minimum wage:
Region 1: from US$3,600 to US$3,800
Region 2: from US$3.200 to US$3,380
Region 3: from US$2,800 to US$2,950
Region 4: from US$2,344 to US$2,645
Note that there is no plan to change the minimum wages in Vietnam until the end of 2023.
Foreigner Investors Should Make Plans for 2023
Owing to the rapidly growing economy and foreign direct investments in Vietnam, a wage increase in the country is inevitable. Therefore, for foreigners who are already doing business in Vietnam, or thinking of doing so, it is definitely a good idea to plan ahead for the rising minimum wage in 2023: prepare your budgets, new costs, and the capacity of your operation when the updated minimum wage law is enforced.
RELATED: Leverage Payroll Outsourcing for a Smooth Expansion to Vietnam
Why It Is Best to Outsource Payroll in Vietnam
Even with just a few employees in your company, payroll outsourcing is always a good idea. Here are some of the reasons:
1. Ensure Your Business Complies with the Latest Payroll Regulations
Vietnamese payroll law changes quite frequently and it may be difficult for employers, especially foreigners to keep up with the updates. In this case, only a payroll expert can make sure that your business's payroll is in compliance all the time.
2. Save Money and Time and focus on Business Growth
When you entrust time-consuming payroll responsibilities to a seasoned professional, you can promptly reclaim valuable time to focus on your core business activities. Moreover, you do not have to spend substantial money on high-tech software and full-time payroll staff.
3. Manage Your Payroll Efficiently
Payroll outsourcing provider streamlines and handles all your payroll tasks including generating detailed payroll reports. Therefore, you will have much better payroll management with easy access to all the payroll information.
About Us
InCorp Vietnam is a leading provider of global market entry services. We are part of InCorp group, a regional leader in corporate solutions, that encompasses 8 countries in Asia-Pacific, headquartered in Singapore. With over 1,100 legal experts serving over 15,000 Corporate Clients across the region, our expertise speaks for itself. We provide transparent legal consulting, setup, and advice based on local requirements to make your business perfectly fit into the market with healthy growth.
Don't take our word for it. Read some reviews from some of our clients.