To avoid visa scams and disappointments during your trip to Vietnam, we strongly recommend that you verify your Vietnam visa agent so that you are not deceived by people looking to take advantage of Vietnam's growing international popularity. In fact, you need to rely on trustworthy sources to get your Vietnam visa and ensure that the visa you obtain is genuine.
Read About InCorp's Immigration Services for Entering Vietnam
Vietnam is now a world-famous country for both tourism and business. Foreigners from all over the world flood into the country for the entire year for many purposes. Regardless of the purpose of your visit, all foreigners must need a visa to enter Vietnam. As a result, the popularity of Vietnam and the need for visa applications give rise to fake visas or fraudulent Vietnam visa agents.
InCorp Vietnam has prepared some tips in this article so that you will know what you can do to defend against any fake Vietnam visa agents.
Vietnam Visa Agent: How to Differentiate Between the Real from the Fake
As long as you do your due diligence by researching your Vietnam visa agent, you can be sure to be able to tell which of them you can trust for your visa application.
1. Verify the Agent's Identity and Information
It is important that you confirm the agent's physical address, phone number, email address, and website are true.
You can either visit their office or call them to validate their accuracy – a fraudulent visa agent often does not have a physical office address.
Furthermore, browse through their website thoroughly as the website may be just another copycat website to trick you into believing that they are genuine.
2. Read Customer Reviews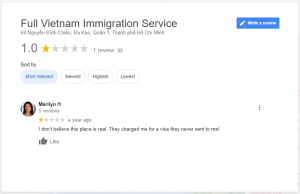 Customer reviews are feedback provided by clients about their experience with the visa agent. By examining customer reviews, you can know if you can trust your chosen visa agent before handing them your hard-earned money. These can easily be found on their Facebook or Google Maps locations. If there are no reviews, it's safe to assume they deactivated that tab due to the huge amount of negative reviews received. Stay away from these.
3. Identify their Years of Establishment
Just like any other service or product provider, the experience of a visa agent says a lot about their reputation and credibility.
A trustworthy Vietnam visa agent should have solid years of establishment in the market and has worked with clients from different countries and diverse backgrounds. Fake visa agents often fear to tell you their experience, or they would make something up to buy your trust.
4. Check if the Visa Agent is Registered
Calling themselves visa agents doesn't make them legit ones. Legal Vietnam visa agents must be registered under the Vietnam Law. Therefore, if a visa agent is not able to show you their registration evidence, you know that you shouldn't entrust them with your visa affairs.
Related: Can Foreigners Enjoy Retirement in Vietnam?
Risks of Dealing with a Fraudulent Vietnam Visa Agent
There have been a number of visa scams in Vietnam and below are some risks associated with a fraudulent Vietnam visa agent:
They ask for visa application fees over the phone or email and disappear after that
They provide you with attractive job offers that are non-existing
They ask for money in advance before even helping you understand the application process
They request your personal details and identity and use this information for illegal loans or activities
You will end up on the infamous blacklist.
A Team of Visa Specialists at InCorp can Help
UPDATE: Vietnam is no longer offering tourist visas and InCorp no longer offers Visas as a single product. You must purchase our Visa services in conjunction with our Business Registration Services in order to get an investor visa.
Regardless of the purpose of your visit to this incredible country, InCorp is your trustworthy Vietnam visa agent who is able to assist you with everything you need to travel, work and stay in Vietnam.
Depending on your purpose of visiting Vietnam, there are different visa options available.
Our team of experienced Vietnam visa agents will help you choose the most suitable visa based on your requirements.
We ensure that the chances of rejection of your Vietnam visa application are minimal by understanding your needs and providing the best-customized solution.
Knowing the visa requirements is an essential part of guaranteeing your visa application success in Vietnam. InCorp works hard to help you achieve that.
About Us
InCorp Vietnam is a leading provider of global market entry services. We are part of InCorp group, a regional leader in corporate solutions, that encompasses 8 countries in Asia-Pacific, headquartered in Singapore. With over 1,100 legal experts serving over 15,000 Corporate Clients across the region, our expertise speaks for itself. We provide transparent legal consulting, setup, and advice based on local requirements to make your business perfectly fit into the market with healthy growth.
Don't take our word for it. Read some reviews from some of our clients.