What is Singapore's MRA Grant?
The Singaporean government first announced the Market Readiness Assistance (MRA) grant in 2013. This government grant is designed to introduce opportunities to Singapore's SMEs (Small and Medium Enterprises) and help them establish operations in new markets worldwide. Specifically, the grant offers a capital incentive in the form of reimbursements, giving SMEs a headstart in establishing their initial footprint. Its aim is to act as a catalyst for SMEs to seize opportunities and gain access to the global marketplace.
Expand your business from Singapore to Vietnam with an authorized market entry consultant today!
The highest available support package of up to 70% of market expansion costs (or up to S$100,000 total) was extended to March 31, 2023, as stated in the annual Singapore Budget in 2021. As of July 2023, the general package value is up to 50% (or up to S$100,000 total) of market expansion costs. The event also saw the addition of Trade Credit Insurance (TCI) as an included area for companies hoping to set up overseas within the MRA grant starting April 1, 2021. This addition aims to equip them with the necessary tools to handle buyer defaults in their new business environments.
The annual Singapore Budget in 2021 extended the highest available support package, which covers up to 70% of market expansion costs (or up to S$100,000 total), until March 31, 2023. As of July 2023, the general package value is up to 50% (or up to S$100,000 total) of market expansion costs. Furthermore, starting from April 1, 2021, Trade Credit Insurance (TCI) was included as an area covered by the MRA grant for companies looking to establish a presence overseas. This addition aims to equip them with the necessary tools to handle buyer defaults in their new business environments.
Apart from financial support, the MRA grant also offers development consultancy, especially in regard to foreign trade agreements (FTAs) that SMEs can take advantage of in their expansion efforts.
Eligibility Criteria
To be eligible for an MRA application, the business entity must meet these requirements:
Be registered or incorporated in Singapore with at least 30% local shareholding;
Either have an annual sales turnover of less than S$100 million or employ no more than a maximum of 200 workers;
Record no more than S$100,000 in overseas sales within each of the three preceding years.
Singaporean companies that have previously benefited from the MRA grant but have not exceeded S$100,000 in overseas sales for their chosen market can still be supported during the grant's effective period. However, the maximum support amount of S$100,000 still applies.
Have you heard of our Vietnam Business Podcast? The first episode is about starting a business in Vietnam as a foreigner!
Companies can apply to multiple new markets concurrently provided the new market criteria are met. Since the MRA grant encourages internationalization, business activities within Singapore will not be eligible for support.
Eligible Business Activities Covered under MRA
Although the incentive provided by the MRA grant comes to a total of S$100,000, this amount is divided into three areas of effect with individual caps. The areas are detailed below.
Overseas Marketing Promotion (Capped at S$20,000): This includes activities that belong to the global marketing strategies of the SME. Some examples of PR activities and marketing events can be In-Store Promotions, Roadshows, Pop-Up Stores, and Overseas Physical/Virtual Trade Fairs. These aim to educate the new market about the enterprise's products or services.
Related: 8 Reasons Why Singaporean Businesses Should Invest in Vietnam Now
Overseas Business Development (Capped at S$50,000): This encapsulates activities that help SMEs define their position in the new market, such as business matching endeavors or setting up an Overseas Market Presence. This also covers In-Market Business Development which aids in engaging a third-party outsourced BD provider to facilitate activities such as Product training, implementation of market entry activities, reviewing market entry strategies, and developing new business leads.
Overseas Market Set-up (Capped at S$30,000): This includes activities pertaining to the establishment of the business in the international scene. Advisory and Legal Documentation Services are largely included in this section. Appointment of such consultants largely helps a company to overcome the legal and technical challenges faced during the incorporation of a new business internationally.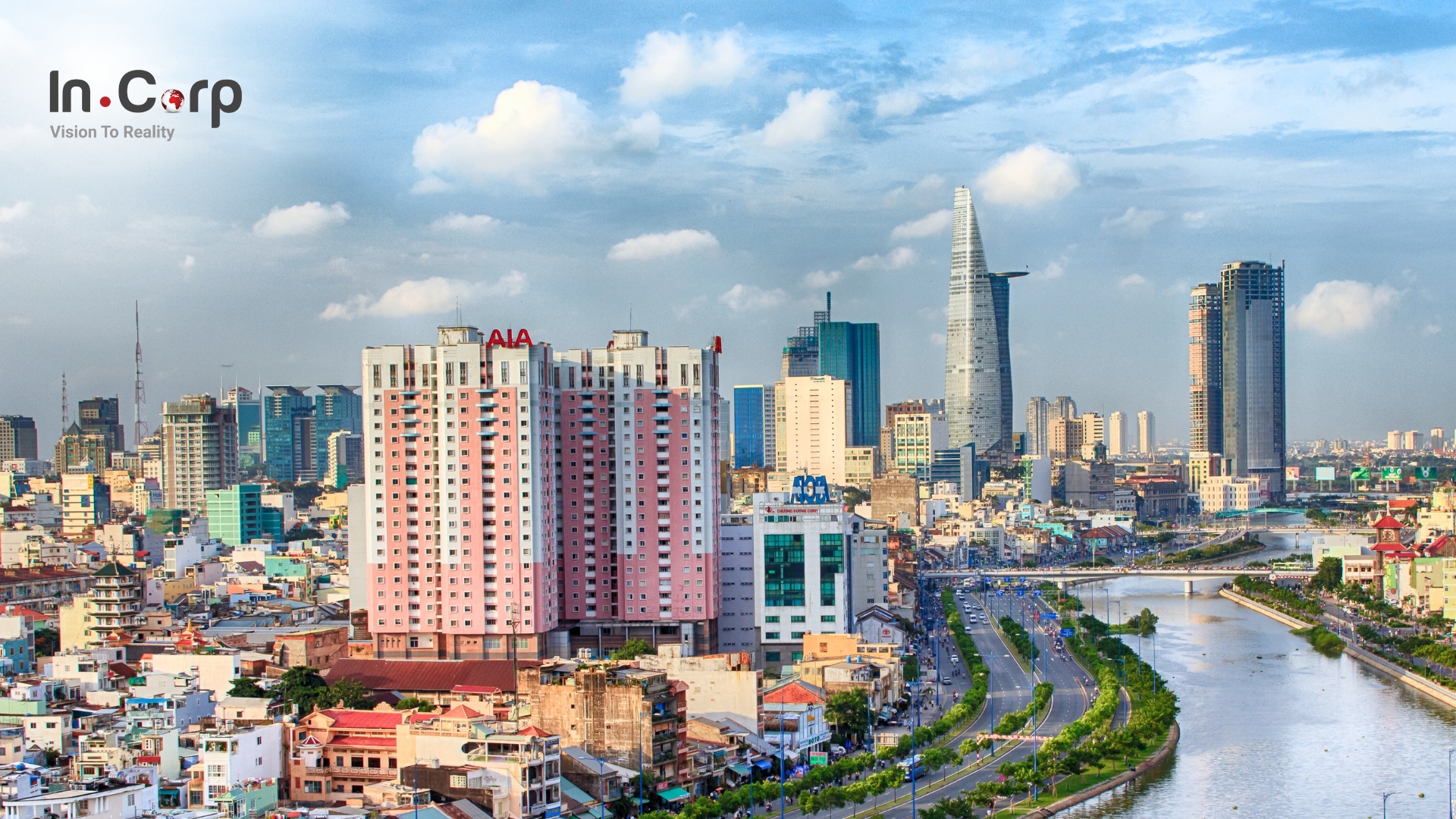 MRA Application Procedure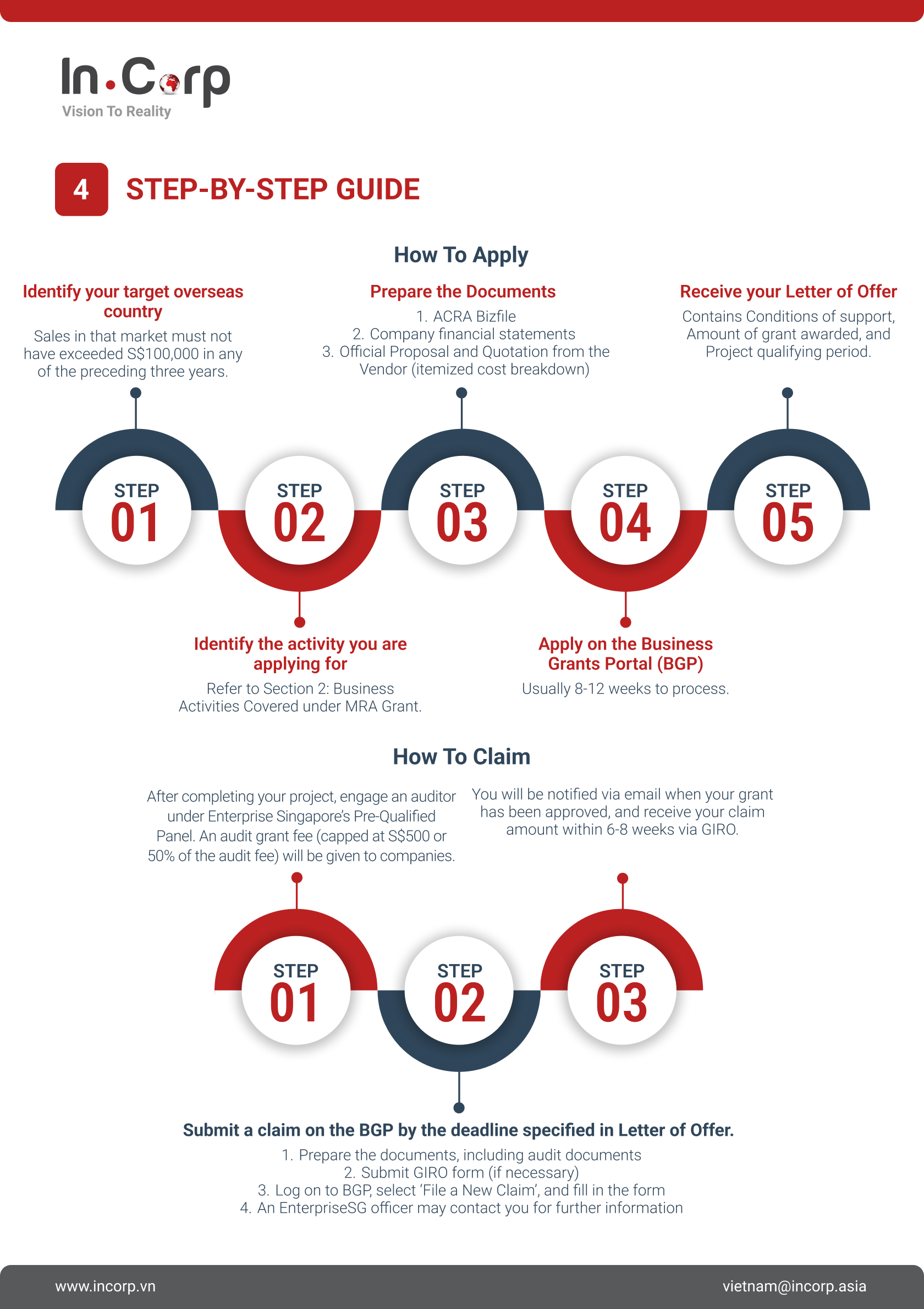 Companies can appoint consultants from Enterprise Singapore's list of FTA consultants or approach their preferred consultants to seek quotations. Companies can proceed to sign the contract with the third-party consultants after submitting the application via Business Grants Portal. Project commencement and completion dates must be in accordance with the project support period stipulated in the Business Grants Portal.
MRA Grant Applications should be made 6 months before the start of the project. Each business activity chosen by the company and approved by the grant will be supported for 12 months at most. The information required in the proposal from the third-party consultant/vendor includes but is not limited to:
Testimonials/credentials of the project team
Track records of past completed projects
Detailed scope of services
Cost breakdown by the scope of services
Expected deliverables for the project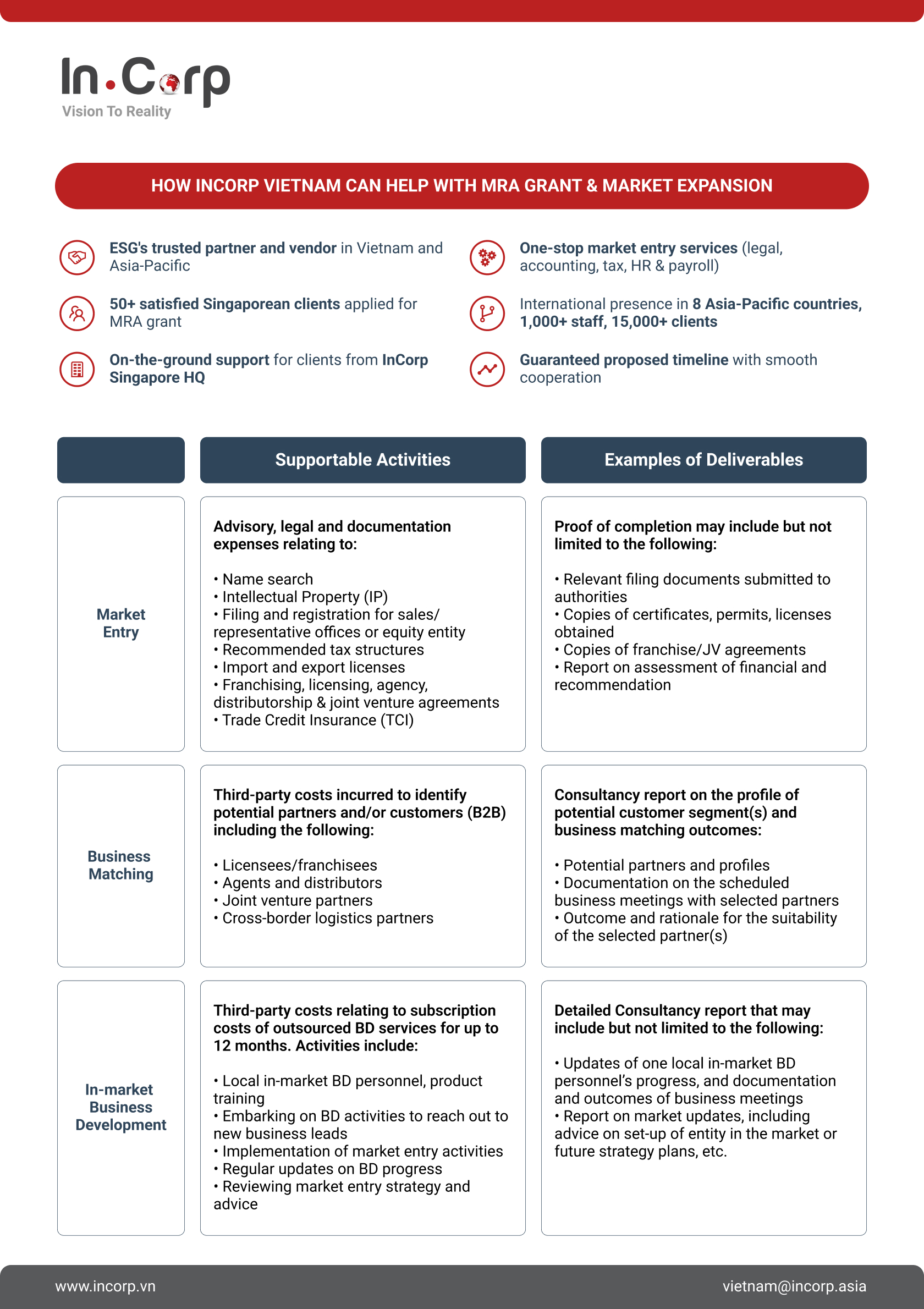 Expanding to Vietnam? Our Vietnam Business Setup Guide is loved by investors and entrepreneurs from around the world, and it's available as an interactive checklist!

About Us
InCorp Vietnam is a leading provider of global market entry services. We are part of InCorp group, a regional leader in corporate solutions, that encompasses 8 countries in Asia-Pacific, headquartered in Singapore. With over 1,100 legal experts serving over 15,000 Corporate Clients across the region, our expertise speaks for itself. We provide transparent legal consulting, setup, and advice based on local requirements to make your business perfectly fit into the market with healthy growth.
Don't take our word for it. Read some reviews from some of our clients.